Eggplant "Steaks"
February 27, 2015 | Eggplant, Vegetarian, Purple, 52 Weeks of Cooking
The Starving Chef is supported by Hungry People like you. When you make a purchase through an affiliate link on my site, I may earn a little bit of cash on the side (at no extra cost to you) to help keep my kitchen running. Read our disclosures here.
Super Hungry? Jump to the Recipe
Who let the Whos out of Whoville? That's seriously how I felt while picking out the ingredients for this week's challenge. Even the cashier at the grocery story noticed the theme and commented "Do you like purple foods?" Yes, random cashier, I do like purple foods.
Check out the recipes for the purple mashed potatoes and radicchio cole slaw! They were amazing. And simple.
Here's what you need for some awesome eggplant steaks:
Slice your eggplant into 1 inch slices, then set aside on paper towels to soak out as much moisture as you can.

Whisk together the rest of the ingredients and reserve half for a dipping sauce. Next dip the egg plant into the remaining sauce and slap onto a screaming hot grill. Or a grill pan on your stove, because there's a foot of snow outside.
Continually brush each side with the sauce as you cook for about two minutes per side, less if they are thin, and until beautiful grill marks are on your 'steaks.'

Dip.

Brush.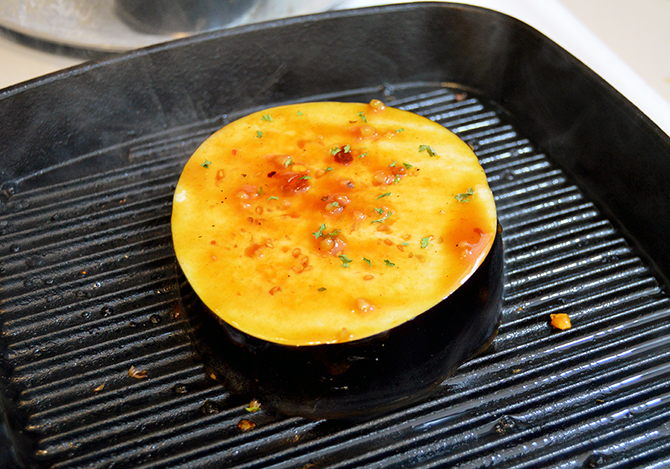 Repeat.
And there you have it! Eggplant Steaks! Garnish with goat cheese and enjoy.
Here are the recipes for the purple mashed potatoes and radicchio cole slaw - in case you want to recreate your own purple meal.
Shop this Post
Eggplant "Steaks"
Number of Servings: 4
Prep Time: 10 minutes
Cook Time: 10 minutes
Total Time: 20 minutes
Ingredients
1 medium eggplant
2 tbsp hoisin sauce
1 tbsp honey
3 tbsp ketchup
1 tbsp apple cider vinegar
1 tbsp soy sauce
1 tbsp Worcestershire sauce
1 tbsp garlic, minced
½ tbsp ginger, minced
1 tbsp olive oil
1 tsp parsley
1 tsp red pepper flakes
½ cup goat cheese, for topping (optional)
salt & pepper, to taste
Mouth Feel
Salty
Savory
Sour
Bitter
Sweet
Spicy
Instructions
Slice eggplants into one inch pieces and set onto paper towels to remove as much moisture as possible.
While you dry your eggplants, combine the hoisin, honey, ketchup, apple cider vinegar, soy sauce, Worcestershire sauce, minced garlic, ginger, olive oil, parsley, and red pepper flakes in a small bowl. Reserve half for dipping later.
Preheat a grill pan over medium high heat and coat with cooking spray.
Dip your dried eggplant into the remaining dip and place onto grill, for about 2 minutes per side, rotating 90 degrees to achieve criss-crossing grill lines.
Brush continuously with the sauce until a sticky coating forms. Serve with a side of sauce and enjoy!
Print