Hermione Granger's Cherry Bakewell Cake | Harry Potter Recipes
July 16, 2015 | Harry Potter, Dessert, Cake, Cherry
Super Hungry? Jump to the Recipe
If there's one thing I'm a superfan of, it's Harry Potter. The books mirrored my childhood and I read each of them a few dozen times as I aged. I dressed up for book and movie premieres, went to midnight releases for the books and movies, and even visited the Wizarding World of Harry Potter last summer.

It was a truly magical experience that I had been eagerly awaiting for the last 10 or so years. Harry Potter is still an important part of my life, so when I was gifted the Unofficial Harry Potter cookbook for Christmas, I immediately knew I had to recreate the cakes he receives for his birthdays in the books.

This recipe is going to focus on the cherry bakewell cake from Hermione, but you can check out the other cakes in the master post too!
Out of the trio, I believe Hermione would have been the best at baking because we know she can follow the instructions of a potion. But as we see in the Half-Blood Prince, keeping to the instructions exactly isn't always the best way to make a recipe! Adding your own creative flair is essential to making something considered unremarkable into something extraordinary.
First, mix together the dry ingredients in a small bowl. Pulse the almonds in a food processor until powdered, then add into the dry ingredients. Use a stand mixer to stir together the sugar and butter, then beat in the eggs one at a time. Then slowly mix in the dry ingredients, alternating with the milk, about 1/4 cup at a time.

You want the batter to be sticky and thick, if it's too smooth, it might not bake through the middle, leaving for a soggy cake.

Since I made mini cakes, I used small ramekins for each cake layer. Don't worry, if you don't want to make a four layer cake, just use engorgio to double the recipe then pour into a standard sized cake pan.

Bake at 350F for about 20 to 25 minutes or until the sides are just pulling away from the ramekins and the cakes are golden brown on top.

Let the cakes cool on a wire cooling rack while you prepare the icing. Be sure to wait until the cakes are no longer warm before attempting to ice, or else you'll have a sticky, runny mess!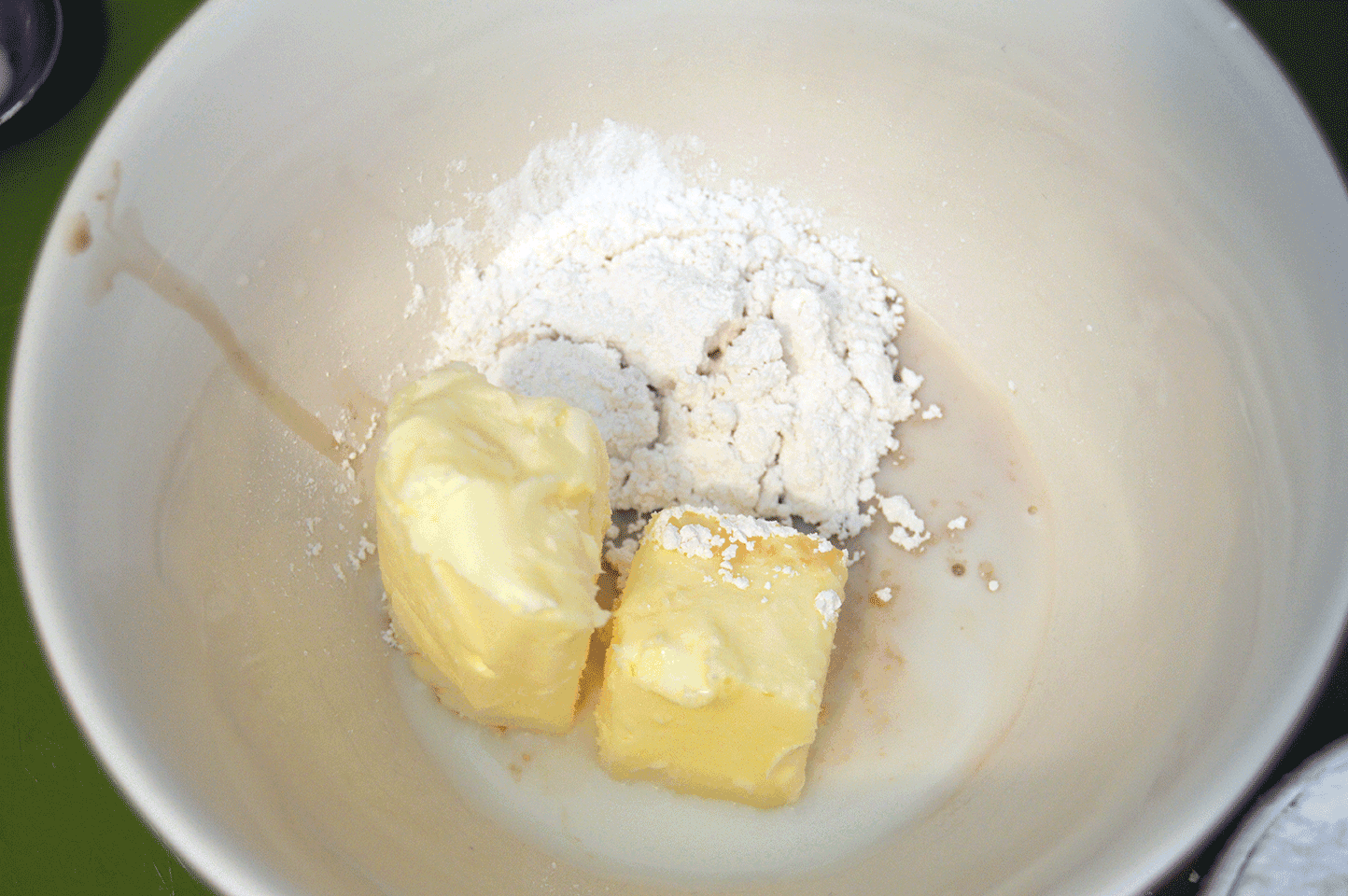 In a small bowl, use a hand mixer to beat together the remaining butter, milk, and powdered sugar until a thick icing forms.

Use more milk to reduce if it's too thick, and more powdered sugar to thicken if it's too runny. You are going for an icing just thicker than toothpaste.

When the cakes have cooled completely, ice the tops of each cake and stack on top of each other. Press the almond slices onto the sides and decorate with cherries.

Serve with a good book or movie - like, I don't know, Harry Potter?

Shop this Post
Hermione Granger's Mini Cherry Bakewell Cake
Number of Servings: 4
Prep Time: 10 minutes
Cook Time: 20 minutes
Total Time: 30 minutes
Ingredients
FOR ALMOND CAKE:
1 cup flour
¼ cup finely ground almonds
1 tsp baking powder
8 tbsps (1 stick) butter, room temperature
½ cup granulated sugar
1 egg + one egg white
1 tsp vanilla or almond extract
¼ cup whole milk, room temperature
pinch salt
FOR FROSTING:
8 tbsps (1 stick) butter, room temperature
1 ½ cups confectioner's sugar
½ tsp vanilla extract
1 tbsp whole milk
TO FINISH CAKE:
¼ cup cherry preserves
10 maraschino cherries
1 cup toasted almonds, for decorating
Mouth Feel
Salty
Savory
Sour
Bitter
Sweet
Spicy
Instructions
Preheat the oven to 350F. In a large bowl, mix together the dry ingredients. Use a food processor to pulse the almond slices into a fine powder then combine with the other dry ingredients.
Use a stand mixer to combine the sugar, butter, vanilla, and eggs, one at a time, until light and fluffy. Add in the milk, alternating between the dry ingredients, about 1/4 cup at a time, until blended. The batter should be thick.
Grease 4 ramekins and add about 1/4 to 1/2 cup of batter into each. Bake for 20-25 minutes or until the sides of the cakes are pulling away from the ramekins and the tops are golden brown. A toothpick inserted into the middle should come out clean when the cakes are finished.
Let the cakes cool in the ramekins for 10 minutes before turning out onto a cooling rack to cool completely - let rest at least 1-2 hours before attempting to decorate.
While the cakes are cooling, prepare the icing by mixing together the butter, powdered sugar, vanilla extract, and milk. Use a hand mixer to achieve a thick icing.
When then cakes have cooled, spread a few tablespoons of icing onto the tops of each cake and then stack on top of each other. Use the remaining icing to cover the sides evenly with icing.
Take the remaining almond slices and press onto the sides of the cake and garnish with cherries on top. Serve with a good book and enjoy!
Print