Cabbage Wontons
August 30, 2015 | Chinese, Egg Rolls
The Starving Chef is supported by Hungry People like you. When you make a purchase through an affiliate link on my site, I may earn a little bit of cash on the side (at no extra cost to you) to help keep my kitchen running. Read our disclosures here.
Super Hungry? Jump to the Recipe
These cabbage wontons are a super quick version if it's rolled counterpart! I really wanted egg rolls with my beef stir fry, but settled for a smaller, yet equally delicious, cabbage filled wonton.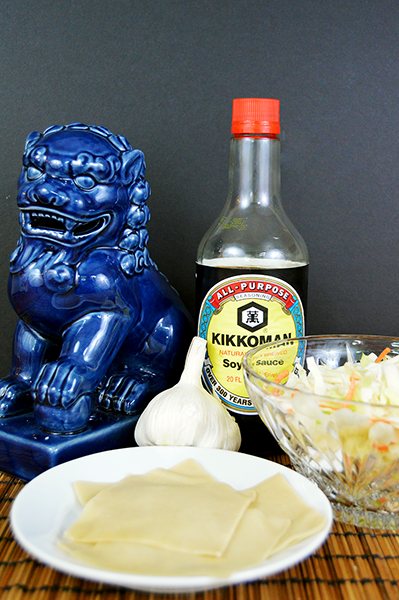 I've made seriously simple egg rolls in the past, as one of the first ever recipes on my blog, so it felt appropriate to give the recipe some new life, with essentially the same ingredients. What's awesome about this recipe is that the cabbage can actually be found prepackaged as cole slaw mix, without the slaw dressing, so there's very little to actually prep for this dish. Just quickly sauté the cabbage in a teaspoon of sesame or olive oil until barely wilted. Then add a splash of soy sauce and stir until the moisture is mostly dissolved. Let the filling cool for a few minutes before trying to fold it into the wonton wrappers.
Seal each corner with some water and pinch the edges closed. Then use a deep fryer at 400°F or a small sauce pan filled with two inches of oil to fry the wontons until they are golden brown and crispy.

I served mine alongside sweet an sour sauce and a steak stir fry! It's just like a bite sized bit of awesomeness.

Shop this Post
Cabbage Wontons
Prep Time: 10 minutes
Total Time: 15 minutes
Ingredients
2 cups cabbage, shredded (I used cole slaw bagged mix)
2 tbsp soy sauce
1 tsp garlic
10 - 15 wonton wrappers
1 tsp olive oil OR vegetable oil OR sesame oil
Mouth Feel
Salty
Savory
Sour
Bitter
Sweet
Spicy
Instructions
Preheat a deep fryer or a few inches of vegetable oil in a large pot until shimmering.
In a small skillet, pour the cabbage in with a tablespoon of oil and sauté until wilted. Add the soy sauce and stir until moisture is mostly evaporated. Remove from pan and let cool.
Use a 1/2 tablespoon to measure out the filling per each wonton wrapper. Place a mound of filling in the center of each wrapper, then seal the edges together with a touch of water. Pinch closed.
Deep fry the wontons for 2-3 minutes, or until golden brown. Serve right away alongside some beef stir fry and enjoy!
Print