Pizza Stone Naan
August 9, 2015 | Naan, Indian
The Starving Chef is supported by Hungry People like you. When you make a purchase through an affiliate link on my site, I may earn a little bit of cash on the side (at no extra cost to you) to help keep my kitchen running. Read our disclosures here.
Super Hungry? Jump to the Recipe
If there is one thing I could probably eat for the rest of my life and never get sick of, it would be naan. Little pillows of ghee slathered awesomeness, naan accompanies nearly every Indian meal.
While traditional naan is prepared in a tandoori oven, you can easily make your very own naan with your broiler and a pizza stone - right in the comfort of your own home.


It's thin and buttery, with just a hit of char. While real restaurant naan requires a tandoori oven to achieve the perfect bubbly naaan, a pizza stone goes a long way to recreate your own tandoori oven at home.
A tandoori oven - also known as a tannour - is a large clay oven used most commonly in many southern-western Asian countries like India. It's a sort of cross between an earth oven and firepit. Think: similar to a pizza oven.
A fire is built in the bottom and the coals are maintained to keep the oven at a consistent heat. Tandoori ovens can reach up to nearly 1000 degrees fahrenheit! It's a perfect method for slow cooking a variety of meats like chicken and lamb. In fact, tandoori chicken is one of my favorite dishes!

This recipe does require a little patience, since there's a rising time of about 4 hours. I also used a plain Greek yogurt instead of curd or dali, mostly since that's what was more accessible at my local grocery store.
Fortunately for us Indian food lovers, ghee is also becoming more and more readily available in the dairy aisle as it gains popularity in the health food markets.

Begin by activating the yeast by combining it with some warm water. Make sure the water doesn't get above 110 F or else you will risk killing the yeast. The yeast will be ready when the top is nice and frothy.


Create a crumbly dough with the oil, yogurt, salt, and flour and then slowly stir in the water and yeast until a firm dough forms. Gently knead the dough into a ball, then cover with plastic wrap and leave in a dark, warm place for 3-4 hours or until the dough is doubled in size.


After 3-4 hours, remove the dough from the bowl and place onto a floured surface. The dough will be soft, so be sure to flour your hands before touching the dough, or else you'll be in for a sticky mess.


Split the dough into eight evenly sized dough balls.


Preheat the broiler over the pizza stone on the top shelf for 30 minutes to get the kind of heat that is comparable to a tandoori oven. Roll out each dough ball into a four or five inch circle. Slap onto the pizza stone and keep a close eye on the tops to make sure they don't burn. The naan will cook quickly!


Brush the tops of each naan with melted ghee and serve alongside chicken biryani, momos, and mint chutney, for dipping!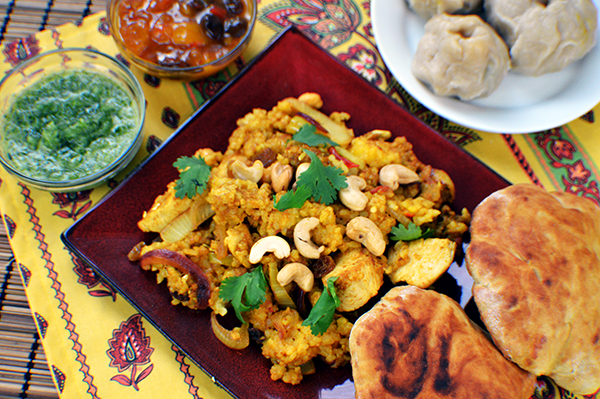 Shop this Post
Pizza Stone Naan
Number of Servings: 8
Prep Time: 3 hours
Cook Time: 5 minutes
Total Time: 3 hours 20 minutes
Ingredients
2 cups flour + more as needed for dusting
1 packet instant rise yeast
2 tbsp olive oil
1 tsp salt
2 tsp sugar
2 tsp baking soda
8 oz plain Greek yogurt
¾ cup warm water (110 F)
2 tbsp ghee, melted
Mouth Feel
Salty
Savory
Sour
Bitter
Sweet
Spicy
Instructions
Combine the yeast and warm water then let sit for about 10 minutes, or until the top of the water is frothy. Mix together the 2 tablespoons of olive oil and yogurt with the flour until a crumbly dough forms. Add the water until a firm dough forms.
Place the dough in a greased bowl and cover with plastic wrap and a dark towel. Place the bowl in a warm place for 3-4 hours, or until the dough has doubled in size.
Preheat the pizza stone on the top shelf of the oven under the broiler on high for 30 minutes.
Dust a working surface with flour. Place the sticky risen dough onto the surface and knead until a ball forms. Let rest another 30 minutes before punching down and splitting up the dough into 8 equal sized balls.
Roll out each dough ball on a floured surface then slap onto the pizza stone under the broiler. Keep a close eye on the naan for 3-4 minutes, or until the naan is bubbly and golden brown on top. Remove from the oven and brush with melted ghee. Serve right away with a side of chicken biryani and momos. Enjoy!
Print