Thai Turkey Burger with Cucumber Relish
October 20, 2015 | Thai, Turkey, Burgers, Cucumber, Relish
The Starving Chef is supported by Hungry People like you. When you make a purchase through an affiliate link on my site, I may earn a little bit of cash on the side (at no extra cost to you) to help keep my kitchen running. Read our disclosures here.
Super Hungry? Jump to the Recipe
I'm always looking for new ways to dress up what I would consider an otherwise boring burger. When I found some ground turkey in my refrigerator, the wheels in my head started turning. Turkey burgers are not only a healthier alternative to their beefy counterparts, in my opinion, it even tastes better than beef.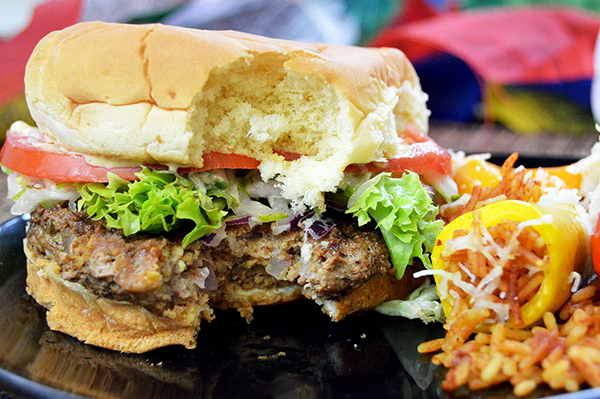 There were a few consecutive weeks of Asian themed meals, including Indonesian Bakso and Chicken Biryani from India - so needless to say, I had a lot of Asian inspired spices just laying around.
A true authentic taste of Thai food is fish sauce, so I made sure to include some in the burger. I also used a mix of ginger, curry, and red curry paste with some brown sugar to offset the sweet meets heat combination.

I also made a very quick pickled cucumber relish with some Thai seasoning, white vinegar, and sugar.

I julienned the cucumber using a mandolin slicer, then mixed it together with the Thai spices lemon juice, white vinegar, and sugar; then I let it marinade in the refrigerator as I prepared the turkey.

I used my hands to combine the turkey with the garlic, red onions, red curry paste, yellow curry powder, ginger powder, Thai spice paste, and brown sugar.

Then I just rolled out the ground turkey into balls and flattened them to be about a half of an inch thick, before slapping them onto a hot cast iron grill. If you don't have a cast iron grill, you could also use a regular outdoor grill, or a regular skillet. Whatever gets the job done. I just like seeing those nice brown lines on my burgers.

You'll want to take extra care to get the burgers cooked all the way through - unlike beef, you don't want any pick in the center of this burger! Mine took about 4-5 minutes for each side, and I rotated every two minutes for even cooking.

Then just top your burger with the quick pickled cucumber relish and your other desired toppings! It's the perfect blend of sweet, sweet heat.

Shop this Post
Thai Turkey Burger with Cucumber Relish
Number of Servings: 4
Prep Time: 10 minutes
Cook Time: 10 minutes
Total Time: 20 minutes
Ingredients
FOR TURKEY BURGERS:
16 oz ground turkey
¼ cup red onion, chopped
1 tbsp fish sauce
1 tbsp Thai seasoning paste (usually found by fresh herbs)
4 tbsp garlic, minced
1 tbsp yellow curry
1 tbsp ginger powder
1 tbsp red curry paste
2 tbsp brown sugar
FOR PICKLED CUCUMBER RELISH:
2 cups cucumber, julienned
¼ cup white vinegar
3 tbsp lemon juice
3 tbsp white sugar
½ tbsp Thai seasoning paste
FOR SERVING:
burger buns
lettuce
tomatoes, sliced
mango habanero aioli
red onion, sliced
Mouth Feel
Salty
Savory
Sour
Bitter
Sweet
Spicy
Instructions
Begin by julienning the cucumber. Add the white vinegar, sugar, lemon juice, and Thai seasonings, then chill until ready to serve (or at least 1 hour, it's best cold).
Combine the red onions, fish sauce, Thai seasoning paste, garlic, ginger powder, yellow curry powder, red curry paste, and brown sugar with the ground turkey. Combine well. For fullest flavor, chill for an hour.
Form the turkey into evenly sized balls then flatten to be about 1/2 inch thick. Grease a grill pan and turn the stove to medium high heat.
When the grill pan is nice and hot, add the burgers with about 1 inch spacing between. Cook 4-5 minutes per side, until cooked through.
Serve on a thick burger bun and top with the pickled cucumber relish and any other favorite toppings. Enjoy!
Print