Turkey & Quinoa Chili | Healthy Slow Cooker Meals
January 27, 2016 | Chili, Turkey, Quinoa
The Starving Chef is supported by Hungry People like you. When you make a purchase through an affiliate link on my site, I may earn a little bit of cash on the side (at no extra cost to you) to help keep my kitchen running. Read our disclosures here.
Super Hungry? Jump to the Recipe
Chili is a relatively new favorite food of mine - mostly because it's super simple to make in a crock pot. I didn't know how much I enjoyed chili until recently when I was able to experiment with my own recipes, including using bison meat instead of beef. But I've made bison chili plenty of times; this round, I went for turkey.
The greatest part about this recipe is there is very little prep time other than opening a few cans and roughly chopping onions, peppers, and mushrooms. I also added some frozen corn, not pictured above (oops, this recipe was on-the-fly!) to add some sweetness and quinoa, instead of beans, for texture.
This recipe is pretty healthy for you too, made with lean meat and packed with veggies - and what's better, it's totally a "set it and forget" meal.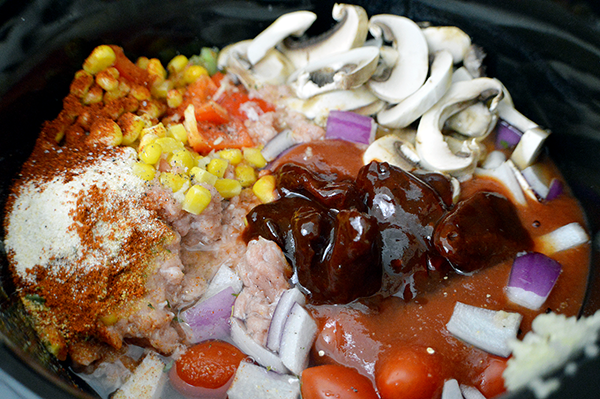 Seriously, I didn't even brown the turkey. I tossed everything in my crock pot in the morning when I woke up, snapped a few quick pics, then set the temperature to low and left it all day.
I stirred every couple hours, then cranked the heat to high for the last hour. I believe my total cooking time was six and a half hours. By the end of the day, the whole apartment complex smelled so delicious, bringing my puppy Theo back inside from a potty break made my stomach growl with hunger.
The quinoa worked perfectly in this recipe because it gave the turkey meat a much needed texture. As someone who doesn't prefer beans in my chili, the quinoa made for a great replacement. An added bonus: there's enough here to feed Nick and myself for the entire week - hooray!
Shop this Post
Turkey & Quinoa Chili
Number of Servings: 6
Prep Time: 10 minutes
Cook Time: 8 hours
Total Time: 8 hours 20 minutes
Ingredients
32 oz ground turkey
2 cups turkey OR chicken broth
2 cups quinoa
8 oz tomato sauce
4 tbsp chipotle peppers in adobo sauce
¼ cup celery, chopped
¼ cup red onion, chopped
¼ cup red bell pepper, chopped
2 tbsp garlic, minced
5 white mushrooms, thinly sliced
10 cherry tomatoes, whole
2 tbsp chili pepper
2 tbsp paprika
2 tbsp onion powder
2 tbsp garlic powder
salt & pepper, to taste
ricotta cheese, for topping
Mouth Feel
Salty
Savory
Sour
Bitter
Sweet
Spicy
Instructions
Add all of the ingredients, execept ricotta cheese, to a crock pot.
Cook on low for 6-8 hours with last hour on high before serving OR on high for 4-5 hours, stirring occasionally.
Serve hot on a cold day, top with a dollop of ricotta cheese, and enjoy!
Print