Ultimate Chunky Pretzel Drop Cookies
February 29, 2016 | Pretzels, Chocolate Chip Cookies, Caramel
The Starving Chef is supported by Hungry People like you. When you make a purchase through an affiliate link on my site, I may earn a little bit of cash on the side (at no extra cost to you) to help keep my kitchen running. Read our disclosures here.
Super Hungry? Jump to the Recipe
Pretzels. Caramel. Chocolate. And sometimes raisins. With these powers combined, this cookie might just be unstoppable. The sweetness from the chocolate combined with the saltiness of the pretzels makes for an incredible cookie experience.
Seriously, my boyfriend took these cookies to work with him and reported back that all but three of them had been consumed by noon.
The cookies themselves came from a last minute request from my boyfriend saying he needed treats to bring into work. I raided my cabinets to find I was out of most of the ingredients I turn to for cookies, so I decided to go with what I had on hand, which included pretzels, caramel nibs, a handful of chocolate chips and some raisins.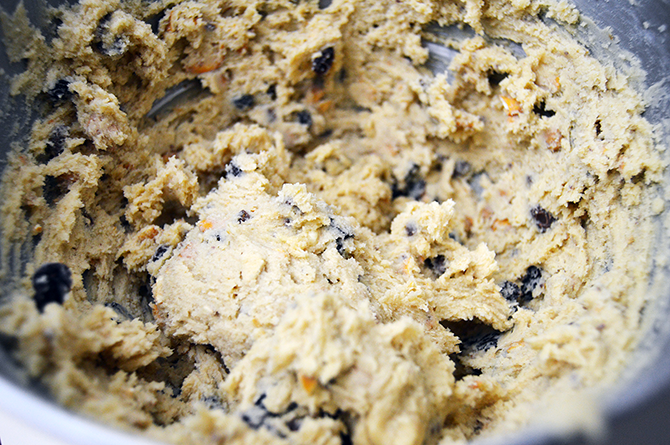 Just toss everything together in a bowl - preferably a stand mixer with a paddle attachment - and stir until combined! The dough will be super sticky, so use some spoons or a greased measuring cup to measure out 2-3 tablespoon sized cookies.
I added some extra pretzel pieces on top of my cookies for some flair!
They were quite the hit with the engineers - who can say no to a cookie with pretzels sticking out of it!?
Shop this Post
Ultimate Chunky Pretzel Drop Cookies
Number of Servings: 24
Prep Time: 5 minutes
Cook Time: 15 minutes
Total Time: 20 minutes
Ingredients
2 ½ cups flour
1 cup butter, room temperature
½ cup sugar
½ cup brown sugar
2 eggs
1 tsp vanilla
1 tsp baking powder
2 cups pretzels, roughly crushed
1 cup mini chocolate chips
¼ cup carmel nibs
¼ cup raisins
Mouth Feel
Salty
Savory
Sour
Bitter
Sweet
Spicy
Instructions
Preheat the oven to 350°F. In a stand mixer with a paddle attachment, cream together the sugars, butter, and eggs. Add the eggs one at a time, beating after each addition.
In a separate bowl, whisk together the flour and baking powder. Sift the flour into the bowl with the butter and cream mixture about a quarter cup at a time, stirring it in throughly as you go.
Pour in the pretzels, chocolate chips, caramel, and raisins (if using). Stir well.
Use spoons to create rounded dough balls and drop them on a baking sheet about 2 inches apart. Press any remaining pretzel pieces into the tops of each cookie.
Bake for 10-15 minutes or until golden brown. Serve warm or room temperature and enjoy!
Print