Asparagus with Honey Goat Cheese Drizzle
March 23, 2016 | Asparagus, Honey, Goat Cheese
Super Hungry? Jump to the Recipe
If you are looking for the perfect side for your Easter dinner, this recipe for asparagus drizzled with goat cheese and honey is super simple but sounds extra fancy.
The asparagus in this recipe remains mostly crispy while the smooth goat cheese and honey drizzle pumps up the flavor. I'm not a huge fan of plain asparagus, so I had a heavy hand when it came to the salt and pepper too.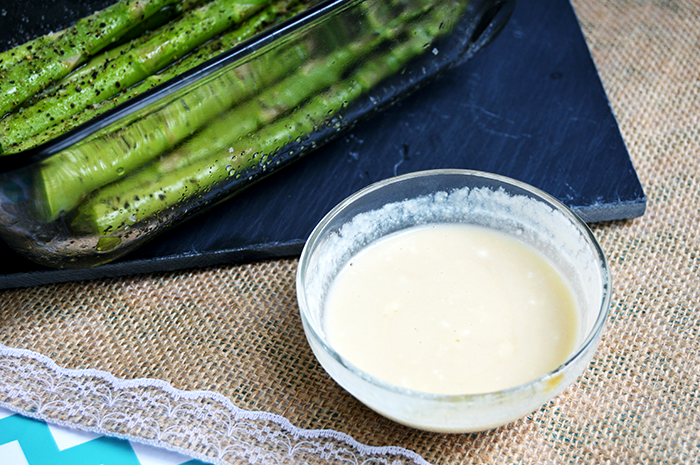 Just melt the goat cheese and whisk in the honey. Drizzle half over the asparagus and bake for 10 minutes, until the asparagus is sizzling and the goat cheese is just barely browning. Drizzle the rest of the honey and goat cheese over the cooked asparagus and eat! It's really that simple.
Shop this Post
Asparagus with Honey Goat Cheese Drizzle
Prep Time: 5 minutes
Cook Time: 10 minutes
Total Time: 15 minutes
Ingredients
15 stalks asparagus
2 tbsps goat cheese
1 tbsp honey
salt & pepper, to taste
drizzle of olive oi
Mouth Feel
Salty
Savory
Sour
Bitter
Sweet
Spicy
Instructions
Preheat the oven to 350 F. Drizzle the asparagus with olive oil and toss gently to coat. Generously add fresh salt and pepper, to taste.
In a small bowl, melt the goat cheese in the microwave for 30 seconds. Whisk in the honey until a smooth mix has formed.
Drizzle half the honey and goat cheese over the asparagus then bake for 10 minutes, or until the asparagus is cooked to your preference.
Pour the remaining goat cheese over the asparagus. Serve right away and enjoy!
Print