Blue Apron Trial: Pork Mazemen
May 29, 2016 | Blue Apron, Trial
Super Hungry? Jump to the Recipe
The first night of my Blue Apron trial, I decided to jump right in with the triple pork mazemen. The image made it look so appetizing and I was looking forward to an ethnic themed dish.
I had high hopes going into dinner, my family all enjoyed Blue Apron immensely, so I trusted that the food had to be good, right? There's no onion in this recipe, like in the picture below, though an onion would have greatly improved the overall flavor of this dish.
Right off the bat, I realized I didn't have any foil to wrap my garlic in for roasting - which is my fault for not being prepared. I improvised by roasting the head of garlic at a lower temperature without the foil, which meant I was already straying from the rules of the trial's challenge: to make the recipes exactly as suggested.
One of the nicest things about following Blue Apron recipes is using their online recipe to see exactly how to prep every ingredient. However, sometimes this feature doesn't come through with the physical copy, so I definitely recommend checking out the online version when in doubt on how to make a specific component of the dish - like peeling and mincing garlic.
Here's where things start to get weird with this recipe - first the recommendation of olive oil to fry the bacon, thus making it crackle and pop hot oil in every direction...(it's almost like bacon doesn't cook in its own fat...).The recipe also recommended to cook the diced bacon for three to four minutes, which for me resulted in overcooked bacon bits when cooked on their temperature guide - which is basically medium high or high for everything.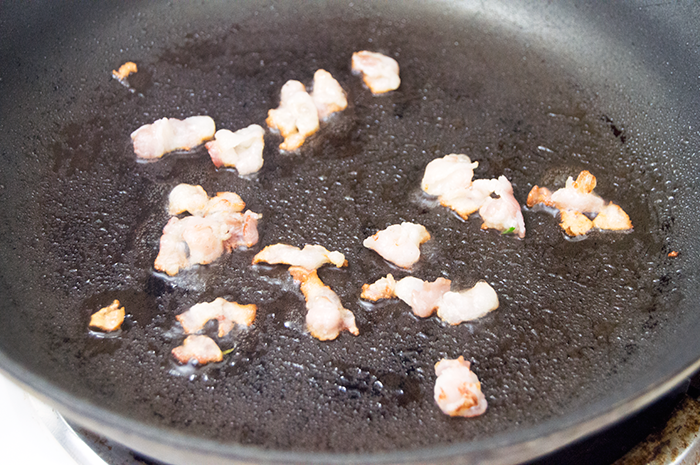 Then the recipe called to add the aromatics (like the ginger and garlic chives) into the same skillet, followed by the raw pork, which felt totally wrong to me. In my mind, those ingredients should have been added opposite of the way suggested and would have probably brought out of flavors of the aromatics even more.
The noodles in this dish were by far my favorite component. I wasn't a huge fan of the demi glace the recipe provided, but the noodles soaked up a majority of the leftover liquid in the dish and actually transformed the flavors for the better.
All that being said, this is still a very popular dish from Blue Apron - reading through the Chef Tips on the recipe's page online, it seems that the recipe itself has changed some over the past few years. While this particular recipe was not my cup of tea, I think if I were to try it again, I'd add more bacon, garlic, ginger and onions. But keeping in line with the challenge of the trial - to do everything as stated by the recipe provided - I'm not sure I'd order this one again.
Read the full recipe on Blue Apron's website.