Simple Korean Bulgogi BBQ
November 6, 2017 | BBQ, Korean, Ribs, Grilled
The Starving Chef is supported by Hungry People like you. When you make a purchase through an affiliate link on my site, I may earn a little bit of cash on the side (at no extra cost to you) to help keep my kitchen running. Read our disclosures here.
Super Hungry? Jump to the Recipe
A few weeks back, I took advantage of the warmer weather to whip up a batch of Korean ribs on the grill. Seeing as the challenge that week was Korean, it only seemed appropriate to get super authentic with the BBQ sauce.
I picked up some Korean BBQ sauce a while back from Jungle Jim's, so it's the most authentic stuff I could get my hands on. Of course, what kind of recipe would this be if I just said to buy the sauce? Also called bulgogi, or "fire meat" in Korean, is a sticky sweet and spicy marinade used on various cuts of beef or pork.
I most certainly had to recreate it for myself, but I'm not gonna lie, the real stuff is goooooood. Based on the listed ingredients - at least the ones written in English on the bottle - this Korean BBQ sauce is made up of soy sauce, garlic, onion, sesame, sesame oil and black pepper.
So I did a side-by-side taste test of the two - my creation and the bottled authentic sauce for a BBQ style taste-off.
And honestly, I think I got pretty close. I'm sure there are regional ingredients that make the final flavors taste different - perhaps such as the addition of MSG (I mean, some of the ingredients were not in English, so I'm guessing here!) or the use of powdered versus fresh ingredients may have made a difference.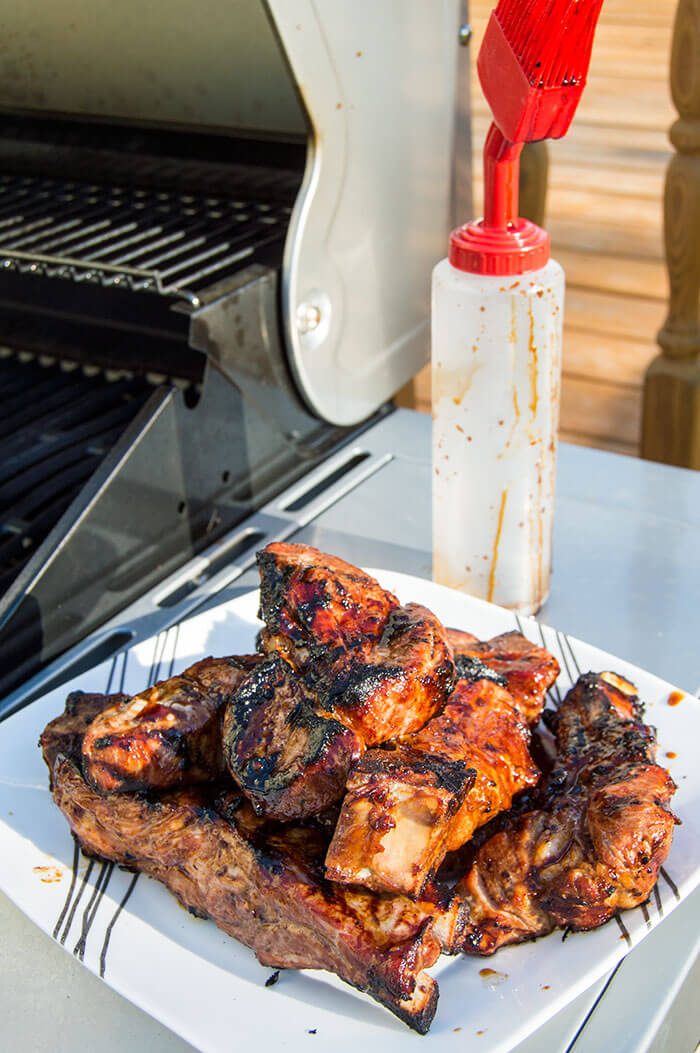 Either way, the flavor profiles were close enough for me that once they were all piled on the plate, it was hard to tell which was from the bottle and which were coated in my sauce. Plated with a little kimchi, we had ourselves a nice little backyard Korean bulgogi. Now I can't wait for summer to return so I can make these ribs again!
Shop this Post
Korean Bulgogi BBQ
Number of Servings: 4
Prep Time: 5 minutes
Cook Time: 15 minutes
Total Time: 1 hour 30 minutes
Ingredients
32 oz pork or beef ribs
¼ cup soy sauce
2 tbsp brown sugar
2 tbsp rice wine
1 tbsp garlic powder OR fresh minced garlic
1 tbsp onion powder OR fresh chopped green onion
1 tbsp ginger powder OR fresh minced ginger
½ tbsp black pepper
2 tbsp sesame oil
Mouth Feel
Salty
Savory
Sour
Bitter
Sweet
Spicy
Instructions
Combine all the marinade ingredients in a large bowl. Whisk until blended, then reserve half in a separate bowl or BBQ basting brush. Add the meat to the bowl or pour the remaining sauce over the meat in a plastic bag. Toss gently to cover, then marinade in the fridge, covered, for at least an hour or overnight.
Preheat the grill to 425 F. Place the meat directly over the flames and cook for 5-6 minutes per side, rotating frequently, until the meat is cooked through. Brush on the reserved sauce every turn of the meat, until a thick, dark glaze has formed. Serve hot alongside rice or kimchi and enjoy!
Print