Pancake Batter Donuts with Maple Bacon Glaze
February 21, 2018 | Donuts, Maple, Bacon
The Starving Chef is supported by Hungry People like you. When you make a purchase through an affiliate link on my site, I may earn a little bit of cash on the side (at no extra cost to you) to help keep my kitchen running. Read our disclosures here.
Super Hungry? Jump to the Recipe
Tired of plain ol' flapjacks? If you have a donut tin you don't know how else to use, why not pour in some pancake batter and make pancake donuts for breakfast instead.
Plus, who doesn't love pancakes AND donuts? Together, they're a match made in breakfast heaven.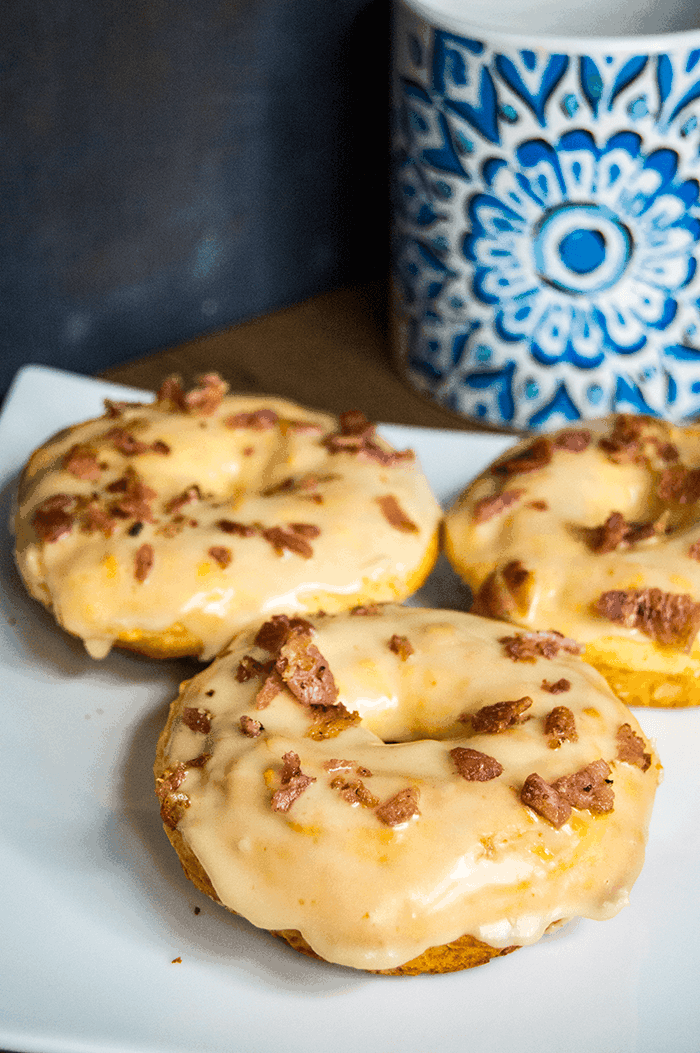 Over the holidays, I somehow wound up with two different kinds of donut molds - one was a standard tin donut baking tray and the other was bright pink silicone. Both produced similar donuts, though I would say the tin mold was much easier to handleg getting in and out of the oven; on the flipside, the silicone version was easier to get the donuts out of.
I love pancakes and I love donuts, so it was a natural progression to make pancake batter into donuts! And with a maple glaze and crumbly bits of bacon, it's sort of like you are getting a whole breakfast spread in one bite.
Shop this Post
Pancake Batter Donuts with Maple Bacon Glaze
Number of Servings: 12
Prep Time: 5 minutes
Cook Time: 15 minutes
Total Time: 20 minutes
Ingredients
1 ½ cups flour
1 tsp baking powder
1 tsp salt
2 tbsp sugar
1 ¼ cups milk
1 egg
5 strips bacon
4 tbsp reserved bacon grease
¼ cup maple syrup
3 cups powdered sugar
Mouth Feel
Salty
Savory
Sour
Bitter
Sweet
Spicy
Instructions
Preheat the oven to 350°F. Cook the bacon in a skillet over high heat until crispy. Remove the bacon from the skillet and place on a paper towel to absorb the excess grease. Reserve about 3-4 tablespoons of grease from the skillet.
In a large bowl, sift together the flour, baking powder, salt and sugar. Make a well in the center and whisk in the egg, milk, and reserved bacon grease. Stir until the batter is smooth. If it is too thick, add more milk. If it is too thin, add more flour. The batter should run off the spoon easily.
Grease a donut tin with cooking spray. Use a spoon or measuring cup with a pour lip to fill the spaces in the donut tin with the batter – fill each space about half way or a little less. The pancake donuts will expand as they cook. Bake for 10-15 minutes, until the pancake donuts are golden brown.
While the donuts bake, whisk together the maple syrup and ½ cup of powdered sugar at a time. You want a runny glaze – you may not need all of the powdered sugar.
When the pancakes have finished cooking, let them cool until they can be comfortably handled. Dip the top of each donut in the maple glaze. Crumble the bacon and sprinkle it across the tops of the donuts. Serve warm. Enjoy.
Print