Plum Bourbon Bison Meatballs | Great Range Bison
October 10, 2018 | Sponsored Post, Great Range Brand Bison, Bison, Meatballs
The Starving Chef is supported by Hungry People like you. When you make a purchase through an affiliate link on my site, I may earn a little bit of cash on the side (at no extra cost to you) to help keep my kitchen running. Read our disclosures here.
Super Hungry? Jump to the Recipe
Bison meat plays well with sweeter flavors because of the rich and savory notes that aren't found in more traditional meats. It's lean but still tender and juicy with a flavor that's superior to beef.
While the name American Bison is usually used interchangeably with buffalo, it's always important to research where your meat originated. Bison is NOT the same as water buffalo!

Also, it's not to be confused with Australian buffalo, which is also commonly marketed as American bison. If you are looking for quality, all-American bison meat, look no further than Great Range Brand bison.
These meatballs are best cooked in the crockpot or slow cooker, but instructions for the Instant Pot are also provided below!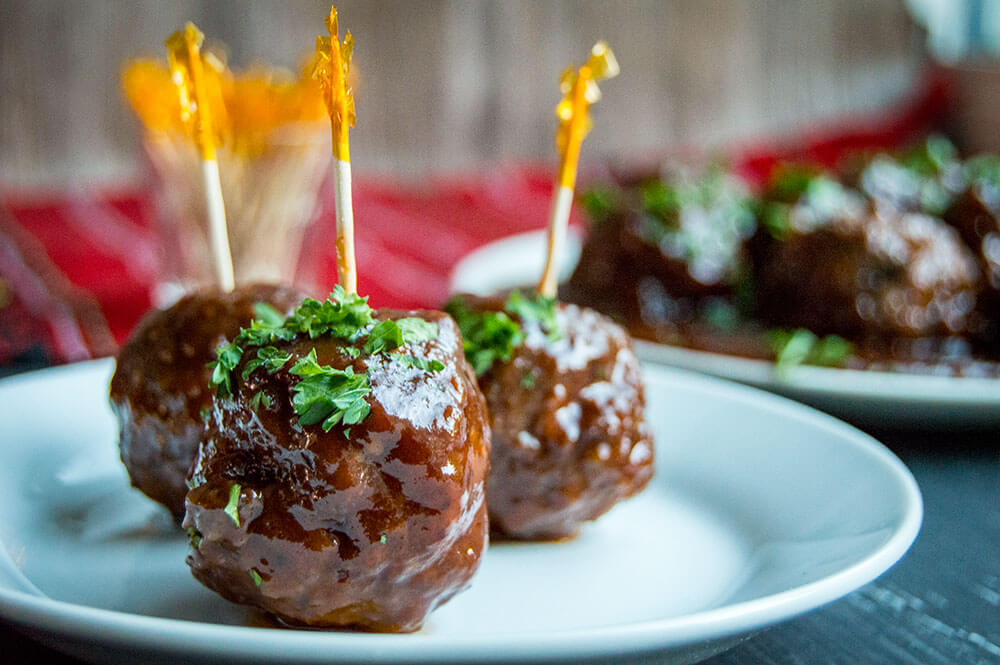 No matter how you cook these meatballs, their combination of sweet and savory is the perfect appetizer for everything from tailgating to a New Year's Eve party.
As a leaner alternative to beef, bison has a full-flavored taste and smooth texture – and while most people think bison is interchangeable with beef, you'll come to find sweeter notes and savory flavors are best when paired with bison.
This recipe for bison meatball is gluten-free and dairy-free, but always be sure to do your own research into the dietary products you personally use.
Special thanks to Great Range Brand Bison for sponsoring this post. For more delicious bison recipes, check out their blog! You can also keep up to date with new bison recipes posted on the Great Range Brand Bison Facebook page.
Shop this Post
Plum Bourbon Bison Meatballs
Number of Servings: 6
Prep Time: 15 minutes
Cook Time: 8 hours
Total Time: 8 hours 15 minutes
Ingredients
FOR BISON MEATBALLS:
16 oz Great Range Brand Ground Bison Meat
¼ cup sweet onion, finely chopped
¼ cup red bell pepper, finely chopped
2 tbsp garlic, minced
3 tbsp cremini mushrooms, finely chopped
1 egg
2 tbsp parlsey + more for garnish
1 tsp cayenne pepper
2 tsp whole grain mustard
salt & pepper, to taste
FOR PLUM BOURBON SAUCE:
7 oz (3/4 cup) plum sauce
¼ cup brown sugar
¼ cup sweet onion
2 tbsp ginger
¼ cup local honey
¼ cup ketchup
½ cup bourbon whiskey
1 tbsp liquid smoke, optional
*INSTANT POT ONLY: add 1 cup water
Mouth Feel
Salty
Savory
Sour
Bitter
Sweet
Spicy
Instructions
Preheat your broiler on high. Combine the bison meatball ingredients in a large bowl. Stir everything together until the ingredients are completely incorporated. Then use your hands to roll out small inch-wide balls of meat.
Arrange the meatballs on a baking sheet lined with foil. Broil for about 10 minutes, or until the tops are just beginning to brown.
Meanwhile, whisk together the ingredients for the plum bourbon sauce.
Gently transfer the meatballs to the bottom of a crockpot or slow cooker. Pour the plum bourbon sauce over the meatballs so that all of the meatballs are coated in sauce.
COOK ON LOW: 3-4 hours | COOK ON HIGH: 6-8 hours
OPTIONAL: About 30 minutes prior to serving, reduce the temperature of the slow cooker to the warming setting to thicken the sauce. The sauce will thicken as it cools.
Serve the meatballs garnished with fresh parsley. Serve it pot-luck style right out of the crockpot as an appetizer or serve it as a main course alongside mashed potatoes and salad. Enjoy!
INSTANT POT RECIPE:
Combine the bison meat ingredients in a large bowl. Stir everything together until the ingredients are completely incorporated. Then use your hands to roll out small inch-wide balls of meat. Place the raw meatballs into the bottom of the Instant Pot chamber.
In a small bowl, whisk together the ingredients for the plum bourbon sauce until a thick sauce forms. Pour the sauce over the meatballs. Pour one cup of water into the Instant Pot and gently mix the meatballs around so that the water is evenly dispersed.
Place the lid onto the Instant Pot so that it locks. Set the Instant Pot to "pressure cook" mode on the "normal" setting. Set the timer for 10 minutes. When the Instant Pot reaches pressure, the timer will start.
Let the Instant Pot depressurize naturally over 15 minutes or carefully perform a quick release. Use a slotted spoon to remove the meatballs from the sauce and set aside.
Press "cancel" on the Instant Pot to reset the cooker. Then turn the Instant Pot onto "saute" mode on the "more" or "high" setting. Let the sauce simmer for about 30 minutes, stirring occasionally, until the spoon leaves streaks across the bottom of the Instant Pot and the sauce is nice and thick.
Return the cooked meatballs to the Instant Pot. Return the Instant Pot to the "keep warm" setting. Stir the meatballs around until they are covered in sauce and heated back to your desired eating temperature – about 5-10 minutes. Enjoy!
Print