1950s Coca Cola Brisket from The Marvelous Mrs. Maisel
December 9, 2018 | Brisket, Dutch Oven, 1950s, Video Recipe
The Starving Chef is supported by Hungry People like you. When you make a purchase through an affiliate link on my site, I may earn a little bit of cash on the side (at no extra cost to you) to help keep my kitchen running. Read our disclosures here.
Super Hungry? Jump to the Recipe
Today we are transporting our tastebuds back to the late 1950s for Passover - and we are dining with our favorite Jewish housewife and comedian, The Marvelous Mrs. Maisel.
Throughout the show, brisket is used as a bargaining chip to secure better open-night mic performance times for her husband. While it turns out Midge has all the talent, the brisket should be toted as the true key to her success.
This recipe is based on a popular 1950s recipe for Coca Cola brisket - it's slow cooked for hours which transforms a normally tough and chewy cut of meat meat into delicious, melt-in-your-mouth brisket.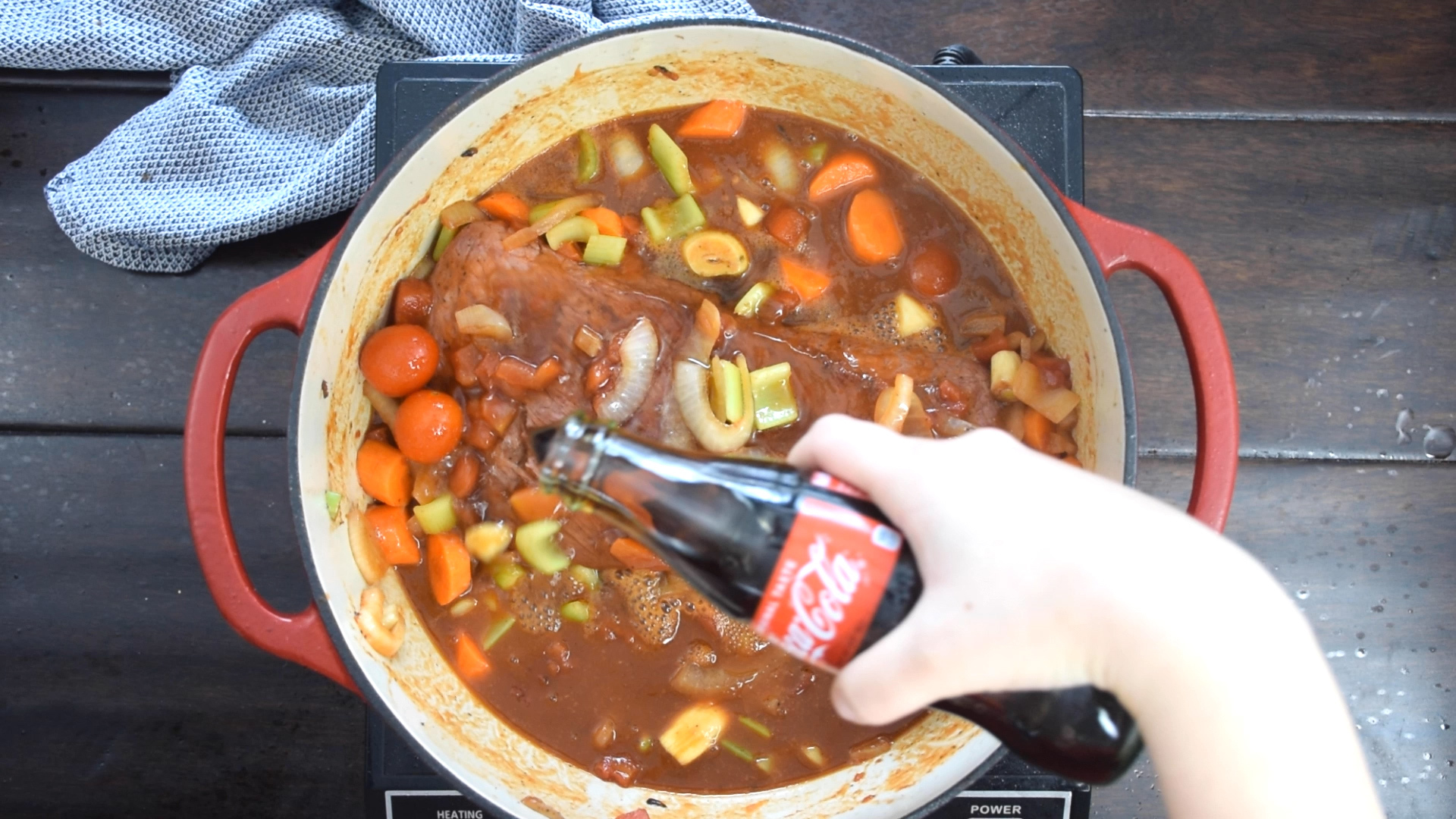 The 1950s are regarded as the golden age of Coca Cola - and using it to flavor savory meals was commonplace. when simmered for hours, the sugary syrup transforms into a rich caramelized flavor - adding depth and richness to an otherwise savory stew.
This '50s inspired brisket can be served as part of a stew to influence the bookie to give you a better time slot for your stand-up routine or the slices can stuck into a bread roll and served as sandwiches while you are on the road to your next gig.
Or you can serve it to your Rabbi next Passover!
Do yourself a favor and check out The Marvelous Mrs. Maisel on Amazon Prime - this isn't even a sponsored suggestion, I just truly really love this show!
Shop this Post
Coca Cola Braised Brisket
Prep Time: 15 minutes
Cook Time: 4 hours
Total Time: 6 hours 40 minutes
Ingredients
80 oz (5-6 lbs) brisket, trimmed of excess fat
3 tbsp vegetable oil
2 tbsp salt & pepper
¼ cup red wine
½ white onion, sliced thin
1 whole carrot, chopped
3 ribs celery, chopped
4 cloves garlic, minced
2 tbsp crystallized ginger
1 cup cherry tomatoes
2 cups crushed tomatoes
¼ cup ketchup
2 cups Coca Cola
¼ cup parsley + more for garnish
Mouth Feel
Salty
Savory
Sour
Bitter
Sweet
Spicy
Instructions
In a oven-safe large pot (or dutch oven), heat the vegetable oil over medium high heat until it is shimmery. Add the brisket and sear on both sides for 4-5 minutes per side. Season with salt and pepper on each side as you turn the brisket. Make sure to sear the edges for a minute or two as well. Remove the brisket from the pot and set aside.
Preheat the oven to 300 F | 150 C. Deglaze the pot with a splash of red wine. Stir and scrape up the browned bits on the bottom of the pot.
Let the wine reduce for 2-3 minutes then add the onions. Saute until the onions are tender, another 2-3 minutes, then add the carrots and celery. Saute until the celery begins to brighten in color.
Stir in the roughly chopped garlic and crystallized ginger along with the cherry tomatoes, crushed tomatoes and ketchup.
Next, pour in the coca cola. Bring to a simmer then return the brisket to the pot to braise. Nestle it between the veggies and sauce, scooping the sauce over the top and covering with vegetables. Pour another coke over the brisket and then toss in half of the parsley.
Cover and cook the brisket for 45 minutes per pound.
Remove the brisket from the pot and set onto a carving board. Let rest at room temperature for 30 minutes. NOTE: Keep the vegetable stew covered while the brisket rests to keep the stew hot.
Use a sharp serated knife to thinly slice the brisket. Return the sliced brisket to the still-warm stew and let return to eating temperature over the course of 30 minutes. Garnish with remaining parsley. Serve sliced on a bun or shred and serve as stew. Enjoy with your family or use a bribe to get a better spot at open mic night!
Print