Instant Pot Pierogies & Meatballs | What's In My Fridge Door
February 25, 2019 | Pierogies, Meatballs, Onion, French Onion
The Starving Chef is supported by Hungry People like you. When you make a purchase through an affiliate link on my site, I may earn a little bit of cash on the side (at no extra cost to you) to help keep my kitchen running. Read our disclosures here.
Super Hungry? Jump to the Recipe
Some nights, cooking is the LAST thing I want to do. But I'm also broke AF - so ordering out is usually not in the cards for the average weeknight. Fortunately, the Instant Pot can be used to transform boring ol' frozen foods into something spectacular!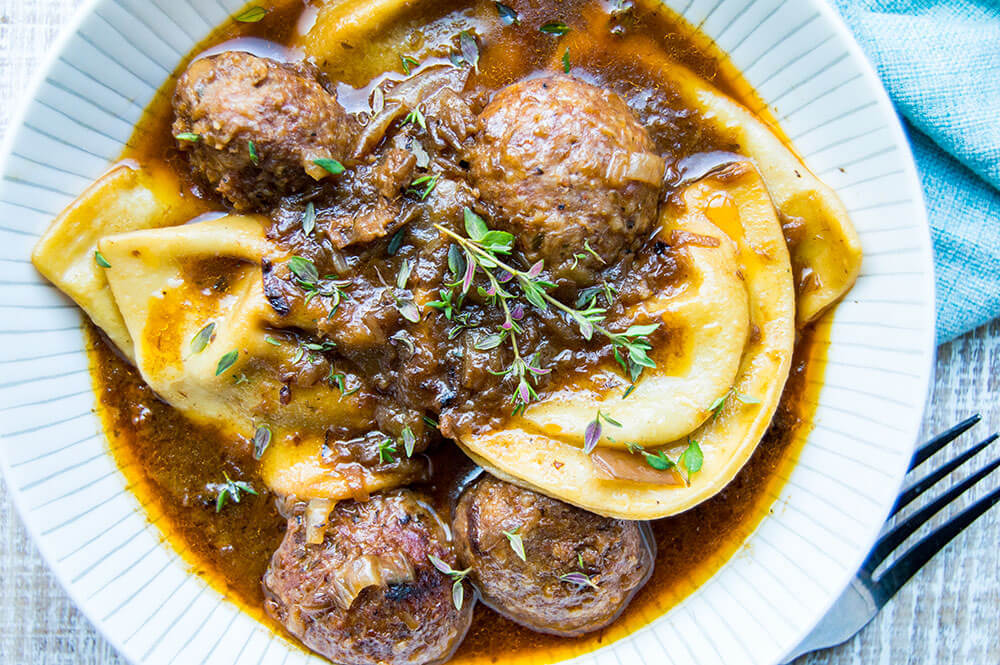 Tonight, I used my Instant Pot to make insanely easy pierogies and meatballs. If you wanna make your meatballs from scratch, go ahead. I have plenty of meatball recipes you can try to get started.
When I play my favorite game of "What's In My Fridge Door" I like to get creative with the ingredients I pull out of my fridge and pantry. For this recipe, I utilized a can of French onion soup that had been on my shelf for literally months on end to make a simple savory onion sauce for the pierogies and meatballs.
With the addition of some fresh ingredients like onion and thyme, this dish is transformed way beyond your standard weeknight frozen meal. It tastes like it took hours to make when in reality, it took longer for the Instant Pot to preheat than it did to dig out the ingredients!
Shop this Post
Instant Pot Pierogies & Meatballs
Number of Servings: 4
Prep Time: 15 minutes
Cook Time: 15 minutes
Total Time: 40 minutes
Ingredients
1 package frozen broccoli cheddar pierogies
1 package frozen or fresh meatballs
10 ½ oz French onion canned soup
1 yellow onion, sliced thin
3 tbsp butter
1 cup water
2 tbsp fresh thyme, for topping
Mouth Feel
Salty
Savory
Sour
Bitter
Sweet
Spicy
Instructions
Preheat the Instant Pot on "saute" mode. Add the butter and melt until frothy. Then add the onions and saute until tender, about 2-3 minutes.
Add the meatballs to the Instant Pot. Brown on each side for 4-5 minutes. Toss in the frozen pierogies and brown for 2-3 minutes.
Arrange the pierogies and meatballs in as even layer as you can in the Instant Pot. Pour in the water and French onion soup.
Cancel the "saute" then press "pressure cook" and set the timer to 15 minutes. Cook under pressure then perform a quick release on the Instant Pot when the timer goes off.
Cancel the "warming" mode and return the Instant Pot to "saute" for 5-10 minutes, as desired, to thicken the sauce. Serve garnished with fresh thyme and enjoy!
Print