Tomato & Ricotta Flatbread
March 18, 2019 | Tomatoes, Ricotta, Pizza, Flatbread
The Starving Chef is supported by Hungry People like you. When you make a purchase through an affiliate link on my site, I may earn a little bit of cash on the side (at no extra cost to you) to help keep my kitchen running. Read our disclosures here.
Super Hungry? Jump to the Recipe
Spring is just around the corner (hopefully), which means it's time for me to start gathering up my garden supplies!
Every summer I grow a variety of tomatoes - either from seed or unusual types I see at my local plant nursery. I've been on the search for PURPLE tomatoes for years, so if you know where to find those...hit a girl up!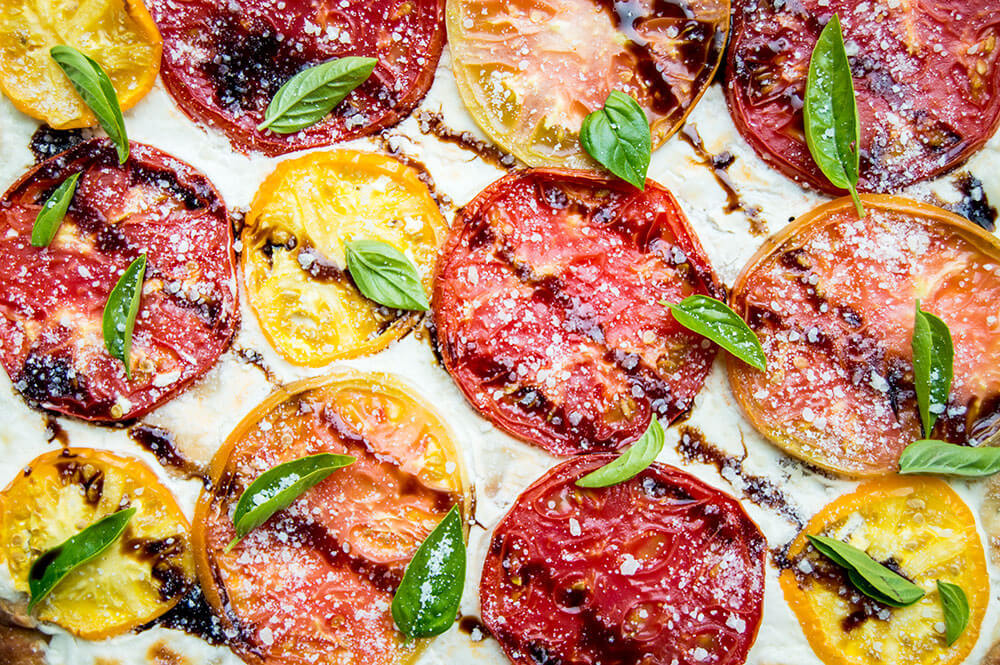 Last summer I grew a combination of beefsteak and yellow tomatoes. This tomato ricotta flatbread is simple enough to make. Take a basic pizza crust recipe or canned variety and top it with ricotta cheese, fresh tomatoes, a sprinkle of parmesan, salt and a balsamic drizzle. Of course, fresh homegrown basil to top it all of just pulls the whole thing together.
And honestly - this might sound weird - but I HATE tomatoes! And yet, each year, here I am growing them and eating them. There's just something about a homegrown tomato that makes it taste so much better than store bought kinds - and yellow tomatoes by themselves are actually delicious too, I've found. I'm not totally over my adversion, but I figure if I keep growing them, maybe one day I'll acquire the taste for them...
Shop this Post
Tomato & Ricotta Flatbread
Number of Servings: 6
Prep Time: 10 minutes
Cook Time: 20 minutes
Total Time: 30 minutes
Ingredients
1 can thin crust pizza dough or homemade equivalent
1 large red tomato
1 large yellow tomato
½ cup ricotta cheese
¼ cup Parmesan cheese, grated + more for topping
1 tsp onion powder
1 tsp coarse salt + more for topping
1 tsp sugar
3 tbsp balsamic vinegar, for drizzling
fresh basil, for topping
olive oil, for brushing crust
Mouth Feel
Salty
Savory
Sour
Bitter
Sweet
Spicy
Instructions
Preheat the oven according to the instructions on the pizza dough packaing. Roll out the dough on a greased or parchment lined baking sheet. Press the dough into an even thickness all the way to the edges.
Slice the tomatoes about a quarter inch thick. Set onto paper towels to absorb some of the liquid coming from the fruit. Discard the ends.
In a small bowl, stir together the ricotta, parmesan, onion power, salt and sugar. Stir until smooth.
Brush the dough with olive oil to the edges. Then spread the ricotta cheese across the dough, leaving a crust around the edges as desired.
Arrange the tomatoes on the ricotta in an alternating pattern. Bake for 15-20 minutes, until the tomatoes are starting to appear dried in the center and the crust is golden brown.
Drizzle with balsamic vinegar. Sprinkle on grated parmesan cheese, coarse sea salt and fresh basil leaves as desired. Serve warm or cooled to room temp. Enjoy!
Print