Apple Cider Chili
October 15, 2019 | Chili, Slow Cooker, Crock Pot, Instant Pot, Fall
The Starving Chef is supported by Hungry People like you. When you make a purchase through an affiliate link on my site, I may earn a little bit of cash on the side (at no extra cost to you) to help keep my kitchen running. Read our disclosures here.
Super Hungry? Jump to the Recipe
There's nothing better than a crisp autumn evening and a steaming bowl of apple cider chili.
Slow cooked to perfection, this chili uses notes of cocoa and cinnamon to wrap up your taste buds in a blanket of fall flavors
This recipe can be made on the stove, in a slow cooker or in your Instant Pot. No matter which way you cook it, you can rest assured you are in for a delicious meal!
I served my chili with a hunk of homemade jalapeno honey cornbread - it perfectly balanced the sweet and savory flavors of this chili.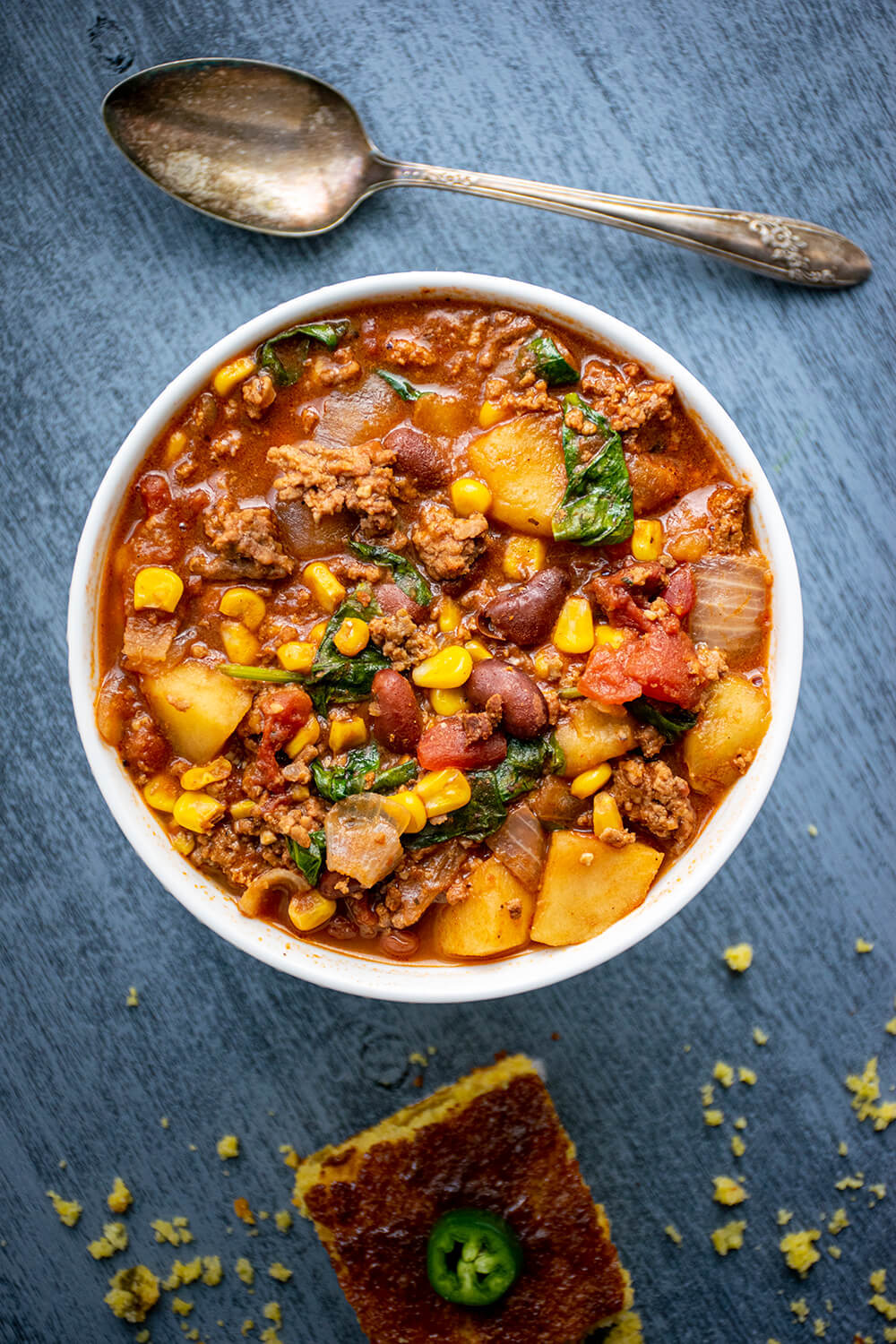 Plus, this chili is crazy easy to make. Just a few minutes of prep then just set it and forget it.
One thing is for sure, I am READY to embrace the fall with this chili in my crock.
Shop this Post
Apple Cider Chili
Number of Servings: 6
Prep Time: 30 minutes
Total Time: 3 hours
Ingredients
24 oz ground beef
1 cup apple cider
2 cups spinach
2 tbsp garlic, minced
15 oz can tomato sauce
14 ½ oz can diced tomato
15 ½ oz kidney beans, drained & rinsed
10 oz golden sweet corn
½ white onion, finely chopped
2 apples, cored, peeled & roughly chopped
¼ tsp cinnamon
1 tsp unsweetened cocoa powder
1 tbsp olive oil
salt & pepper, to taste
Mouth Feel
Salty
Savory
Sour
Bitter
Sweet
Spicy
Instructions
In a large pot over medium high heat, add the oil and saute the onions until translucent - about 8-10 minutes. Stir in the garlic and cook until fragrant then stir in the beans and add the ground beef. Cook until the beef is sufficiently browned with a few pink spots. Stir in the apples and continue to cook until the apples begin to soften – about 5-10 more minutes.
STOVE TOP METHOD: Stir in the apple cider, tomato sauce, diced tomatoes, sweet corn, cinnamon and unsweetened cocoa powder. Bring to a rolling simmer then cover. Reduce the heat to medium low and simmer for 3-4 hours. Five minutes prior to serving, add the spinach and stir until wilted. Season with salt and pepper, to taste. Remove from heat and serve.
SLOW COOKER / INSTANT POT: Transfer the cooked beef mixture to a slow cooker or crock pot. Stir in the apple cider, tomato sauce, diced tomatoes, corn, cinnamon and cocoa powder. Season with salt and pepper, to taste. Slow cook on low for 6-8 hours; or on high for 3-4 hours. About 10 minutes prior to serving, stir in the spinach until wilted. Turn the slow cooker onto warming mode and serve.
Print