"Grey Stuff" Ice Cream from Beauty and the Beast
June 29, 2020 | Ice Cream, Disney
The Starving Chef is supported by Hungry People like you. When you make a purchase through an affiliate link on my site, I may earn a little bit of cash on the side (at no extra cost to you) to help keep my kitchen running. Read our disclosures here.
Super Hungry? Jump to the Recipe
Be our guest
Be our guest
Put our service to the test
Tie your napkin 'round your neck, cherie
And we provide the rest
Soup du jour
Hot hors d'oeuvres
Why, we only live to serve
Try the grey stuff, it's delicious
Don't believe me? Ask the dishes!

Admit it, you sang that in your head.

A few months ago, before the world came to a standstill, I went to Disney World for the FIRST TIME EVER! Thanks to my bestie and Disney blogger Karli Keene. It was a mini bachelorette party of sorts - and truly a dream come true for someone who had never gotten the chance to go as a kid.
Trust me, Disney World is just as much fun - if not more fun - when you go as an adult without kids in tow. (Just kidding, I don't have kids so I wouldn't know.)
On our trip to Disney World, we managed to snag a reservation at the Be Our Guest restaurant - a coveted dining experience.
The restaurant is localed in the Beast's Castle where Belle is taken in Beauty and The Beast. Complete with talking suits of armour, ripped paintings and *the* rose itself this dining spot is any Beauty and the Beast lovers dream come true.
At the beginning of quarantine, Disney released the official recipe for the Grey Stuff on their blog which lead me down the path of not only trying it myself, but deciding to take it to the next frozen level.
The Disney blog pipes the Grey Stuff onto vanilla cookies - and an alternative option is to just turn it into dip and skip busting out the piping bag at all. At the restaurant, they put a swirl of the Grey Stuff on top of a decadent chocolate cupcake.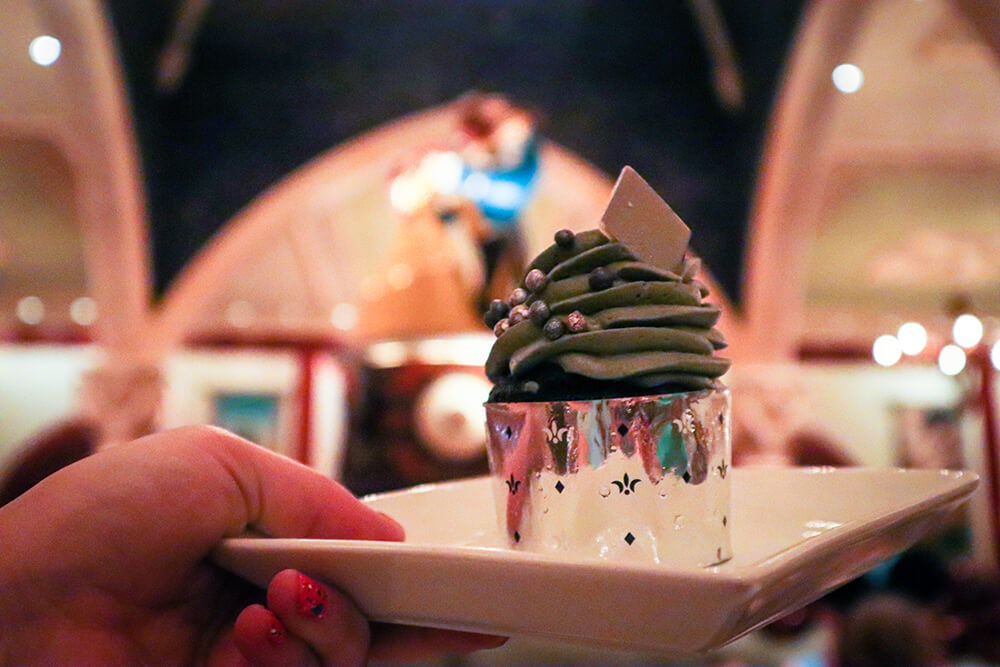 Of course, who would I be if I didn't get a taste of the Grey Stuff from the source itself? On our trip, I made sure to try the Grey Stuff on top of a cupcake. It's definitely some kind of hybrid Cool Whip-icing combination with crunchy little sugar bits and a flat square of white chocolate on top.
My recipe uses the base ingredients from the Disney version - the difference is that it's frozen into ice cream! And the best part? The ice cream version is no-churn!
I'm no stranger to no-churn ice cream. In fact, one of my favorite go-to recipes is for a simple two-ingredient no-churn ice cream base that I can mix in whatever toppings I please. This recipe is completely different than the two-ingredient base, but the end result tastes practically the same, so I say that's an absolute success.

Toppings like crunchy sugar bits and white chocolate squares are completely optional on the homemade version of this ice cream - but those little bits do help make it look a bit more fancy!
I can imagine Belle being served this version of the Grey Stuff in the great dining room at the dishes and Lumiere dance around her.

Maybe some day I'll make it my mission to recreate all the dishes mentioned in the song. Hot hors d'oeuvres, cheese souffle, pie and pudding "en flambe"!? Sign me up!
I've got a lot on my plate this year (pun intended), but I'll definitely be lining up this as a challenge in the future.
Though my trip to Disney World was truly a once in a lifetime experience for me, I hope that maybe one day I'll be able to take my future kids back with my so I can experience the magic through their eyes.
One this is for sure, Disney World truly is the most magical place on Earth!
If you get a chance to get to Disney this year, don't forget to try the Grey Stuff - it's delicious!
Shop this Post
"Grey Stuff" Ice Cream from Beauty and the Beast
Number of Servings: 6
Prep Time: 5 minutes
Cook Time: 8 hours
Total Time: 8 hours 20 minutes
Ingredients
340000⁄100000 oz instant vanilla pudding
3 tbsp instant chocolate pudding
1 ½ cups whole milk
2 cups crushed Oreo crumbles
16 oz Cool Whip
2 tbsp white and/or yellow sugar pearls
Mouth Feel
Salty
Savory
Sour
Bitter
Sweet
Spicy
Instructions
In a large bowl, whisk together the pudding mixes with the whole milk and Oreo pieces. Fold in the Cool Whip until smooth and a solid grey color.
Spread the 'grey stuff' into an air tight container. Freeze 8-10 hours or until solid. Serve with sugar pearls and your favorite ice cream toppings. Enjoy!
Print