Pressed Italian Shooter Sandwich
July 6, 2020 | Picnic , Sandwich, Italian
The Starving Chef is supported by Hungry People like you. When you make a purchase through an affiliate link on my site, I may earn a little bit of cash on the side (at no extra cost to you) to help keep my kitchen running. Read our disclosures here.
Super Hungry? Jump to the Recipe
This summer is about to be different from any other - for a multitude of reasons. Pools may be closed and stadiums abandoned. If you're reading this from the future you should know we are in the middle of 2020. And that's all I need to say about that.

More people are taking to the great outdoors to strech their legs and hit their town in entirely new ways. And more time exploring outdoors means more delicious portable options. Picnic blaskets are the new trendy restaurants.
These portable pressed Italian sandwiches make for a tasty treat after a long day of exploring. Whether that's outdoors, in the middle of a local park or out on a back country road, there's never been a better time to have a picnic.
So unfurl your blanket and pop open your basket – it's time for a picnic.
There are two major secrets behind the perfect press. The first secret: get a LOT of weight on your sandwich in any ways you can think of. Be creative. For my sandwich, I used a couple spare granite slabs pressed between several clamps to get the optimal press going. I've seen other people use books or pots and pans. The key to success is in the press.
Back in the day, these pressed sandwiches were also know as "shooter sandwiches" because they would be prepped the night before a big hunt and packed into hunters bags the next morning. There's a HUGE amount of protein and meat pressed between two loaves of ciabatta - the thin size is rather deceptive. There's over a pound of meat spread between these slices of bread.

After a few hours of pressing, you may notice some oils dripping from the sandwich. I used a small ramekin to collect the butter and oil to use as a grease for the panini press. Trust me, you won't be able to find a better tasting butter than this!
Ideally, you want to press the sandwich for at least 8-10 hours at room temperature. The more you pack in, the longer it will take to press into a bite size sandwich. It's also important to not cook the sandwich pressing - otherwise, everything will be over saturated and soak through the bread.

Once the sandwich has been sufficiently flattened, carefully unwrap it from the wax paper. I tried to tuck in any ingredients that were spilling out the edges.
I thought I made sure when I bought my loaf of ciabatta that it would fit on the panini grill - however, I forgot to account for the bread getting wider as it flattened out...
It just barely fit on my panini grill!

I grilled my sandwich for about 20-30 minutes to ensure I got some beautiful grill marks from edge to edge and that the center of the sandwich was also cooked through and melty.
I used so. many. ingredients. in this sandwich - but feel free to pack your ciabatta full of your favorite meats and cheese. Practically no combination is off limits. This is just what combination worked for me.

The hardest part about this sandwich is fighting the temptation to cut into it as soon as it comes off the grill. However, it's in your best interest to let the sandwich cool to room temperature at least - and even better if you wait and chill it overnight.
That's the second secret to this sandwich. Let it cool completely before cutting into it. The flavors will meld into each other and create an even more delicious sandwich.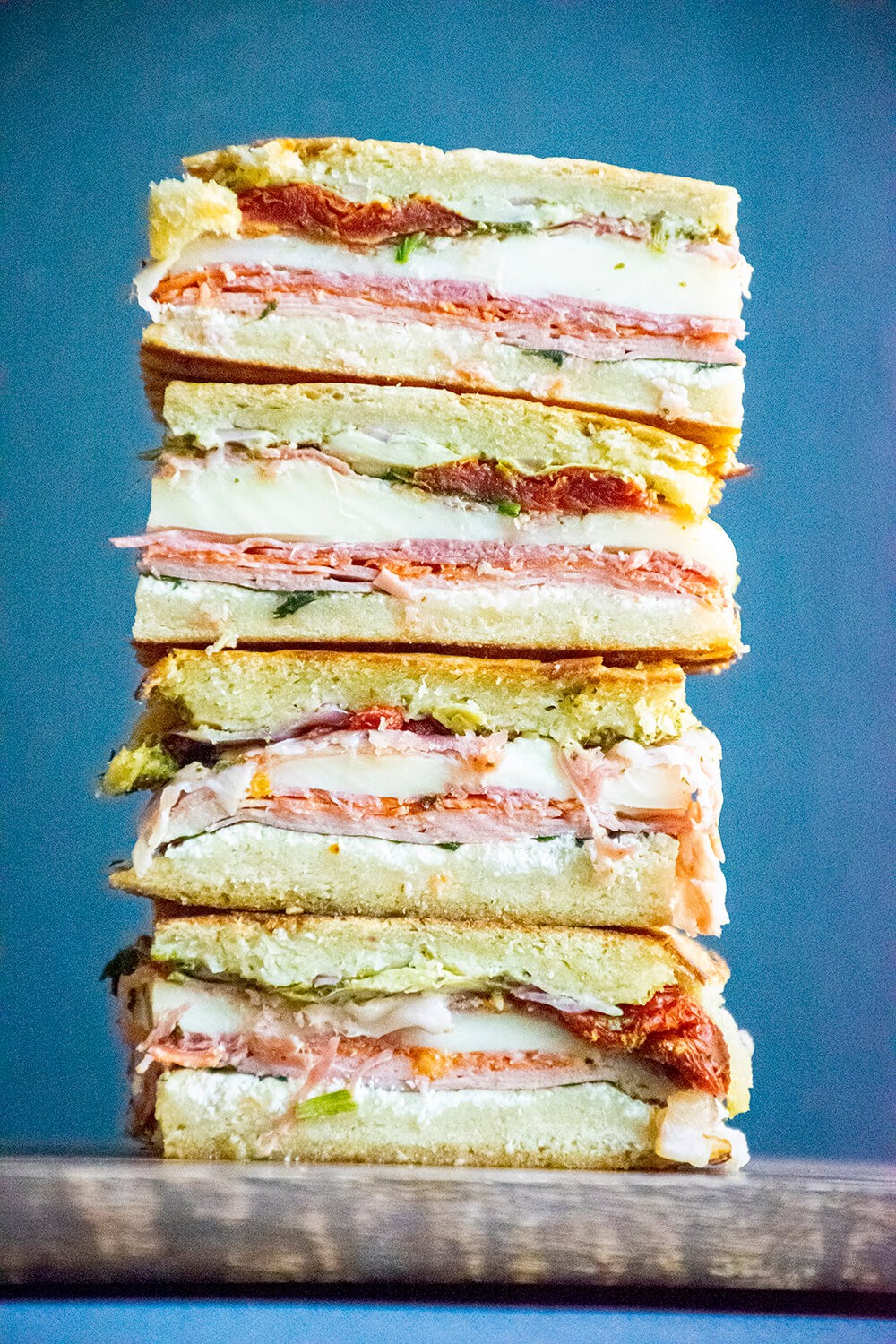 Packed with roasted veggies, soft cheeses and over half a dozen different meats - the wait is definitely worth it!

What are your favorite sandwich toppings? I need more flavor combinations to try! Let me know down in the comments below!
Shop this Post
Pressed Italian Shooter Sandwich
Number of Servings: 8
Prep Time: 24 hours
Cook Time: 30 minutes
Total Time: 24 hours 30 minutes
Ingredients
1 large loaf ciabatta bread
2 tbsp butter, melted
4 oz goat cheese
8 large basil leaves
4 oz mortadella, sliced
2 oz hard salami, sliced
16 oz fresh mozzarella, sliced
5 slices prosciutto
4 oz uncured pancetta, sliced
8 oz fresh spinach
10 sundried tomatoes, roughly chopped
4 tbsp roasted red pepper, roughly chopped
4 tbsp artichoke hearts, roughly chopped
1 shallot, sliced
2 tbsp red wine vinegar
2 tbsp pesto
2 tbsp mayonnaise
wax paper & twine/tape
50 lbs+ weight
Mouth Feel
Salty
Savory
Sour
Bitter
Sweet
Spicy
Instructions
Spread out wax paper on a work surface. Slice the ciabatta in half across the middle. Brush each half with melted butter. Working from the bottom half, spread out the goat cheese in an even layer to the crust.
Arrange the basil leaves on top followed by the slices of mortadella, pepperoni, mozzarella, prosciutto and pancetta.
Add the spinach on top followed by the sundried tomatoes, roasted red peppers, artichoke hearts and sliced shallots.
On the top half of ciabatta, drizzle on the red wine vinegar, and spread on the pesto and mayonnaise in a thin layer. Place on top to create a giant sandwich.
Wrap the entire sandwich in the wax paper and secure in place with twine or tape. Place the weights on top of the sandwich and press for at least 6-8 hours. (TIP: place on a tray to catch any dripping liquid.)
After pressing, the sandwich should be about half of the height it was before. Preheat a panini press with the grilling option. Remove the sandwich from the wax paper and press until golden brown on each side and the mozzarella is melted in the middle – about 25-30 minutes.
ALTERNATIVE COOKING METHOD: Remove from wax paper and wrap in foil – bake at 425 F for 25-30 minutes.
Cool sandwich to room temperature and then chill overnight. The next day, use a serrated knife to cut the ciabatta into individual sandwiches. Wrap in paper and pack in a picnic. Enjoy!
Print