Cranberry Lemon Curd Tart
November 17, 2020 | Cranberry, Lemons, Curd, Custard, Pie, Tart, Dessert
The Starving Chef is supported by Hungry People like you. When you make a purchase through an affiliate link on my site, I may earn a little bit of cash on the side (at no extra cost to you) to help keep my kitchen running. Read our disclosures here.
Super Hungry? Jump to the Recipe
This is it folks. The pie of the decade. You may have seen it pop up on your timeline last year after the New York Times posted their version of this classy holiday dessert.
When it comes to appearance, these two recipes are pretty identical. You can decorate your tart however you like! However, for my recipe - I really decided to play up the sweet and sour by adding a base of lemon custard curd beneath the ruby ready cranberry curd.
I also changed up the crust to my tart as well. The NYT version uses roasted hazelnuts and rice flour - but I decided simpler was better when it came to a show stopping tart such as this one. My tart uses a cinnamony gingersnap crust to hold everything together.

We've all found ourselves with a little bit of extra time on our hands in 2020. Between working from home and shutdowns all around, boredom creeps up on us all. If you've ever really wanted to test out your culinary proesse, then this tart is a great way to flex your skills - and perhaps learn some new ones too.
Don't be scared of this tart because of how 'fancy' it appears. I'm definitely not a skilled baker by any means - cooking is more my forte. But from this one recipe, I learned a ton of new skills like making curd, DIY meringues and how to make candied, frosted cranberries.
One thing is for sure, after attempting this tart, I'm basically a master baker.
First things first...
The crust!
This gingersnap crust is essential to my holiday bakes. In fact, I prefer making gingersnap crusts over traditional graham cracker crusts because of all that extra ZING from the ginger and cinnamon.
It's the easiest crust ever - just pulse together the gingersnap cookies in the food processor with brown sugar and melted butter. After that, press the crumblies into a pie pan or tart tin and bake it until everything comes together. It will be super crunchy!
Of course, you'll need to let the crust cool completely before filling it, so I like to make mine first and let it cool in the fridge until I'm ready to fill it up.

Making the Lemon Curd
Lemon curd is hands down one of my favorite flavors. It's sweet like lemonade but still citrusy sour. And making it is actually a lot easier than you might think.
First you need to zest your lemon. This was something that always perplexed me in my beginner baking days - especially after watching my favorite baking show contestants effortlessly zesting their lemons; whereas when I tried at home, I ended up with something like pulp instead of zest (somehow).
Turns out, they are probably using a zester (affliliate link) and not a cheese grater to zest their lemons. If you don't have a zester - no worries! You can also totally get away with using your run of the mill vegetable peeler to thinly slice off strips of lemon skin (make sure you don't scrape down to the white pith).
Once the lemon peeled, pulse the zest in a food processor with the sugar until the zest is evenly broken up and distributed throughout the sugar.


The second tip to making the perfect lemon curd is to properly temper the eggs and butter to make a thick custard. The key to doing this is to use a double boiler to give a little more control over the temperature.
I made my curd by combining the yolks, lemon sugar and lemon juice in the double boiler and then whisked constantly for what felt like forever until a nice, thick yellow custard started coming together.
Don't stop whisking even if your arm is getting tired! You don't want the eggs to start curdling in the lemon juice!
The final step is to slowly incorporate the butter by adding it to the still hot curd. The butter should effortless melt into the curd. After that, press a piece of plastic wrap on top to prevent the air from touching the curd and allow it to cool completely in the fridge. You can make your curd up to a week ahead of time if you want.

Making the Cranberry Curd
The cranberry curd follows much of the same process as the lemon curd except with, ya know, cranberries. I also tossed in some zested oranges and orange juice to drive up the sweetness.
When sauting the cranberries, it's important to let them cook until they pop and then use an immersion blender to crunk up the pieces. Then the most important step? STRAIN the cranberries - not just once, but several times - to get it silky smooth.

Don't forget the decorations!
You can totally leave this tart undecorated and still wind up with a show stopping dessert. For mine, I quickly candied some cranberries and tossed them in some sugar for that frosted look. I also whipped up some crispy meringues to place on top. I found that the muted flavor of meringue played perfectly with the sharper lemon and cranberry flavors.
This dessert is SUPER TART afterall, so some added sweetness on top really helped to balance everything out.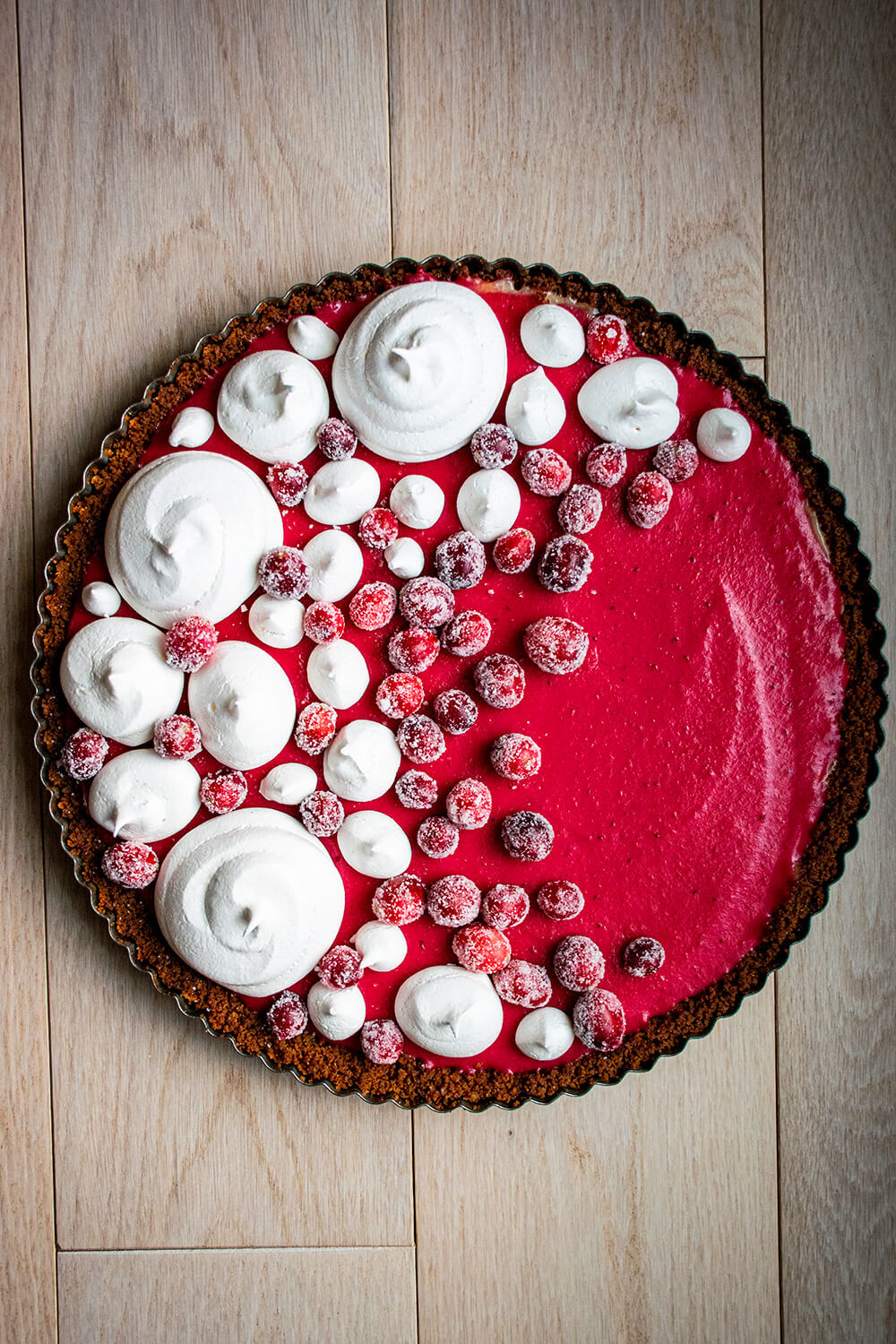 PRO TIP:
Make each element of the tart up to 3-4 days ahead of time for easy assembly on the day of serving! This is the order in which I made mine. You can totally make this whole thing in one day - but trust me, it'll be the only thing you do that day.
DAY 1: Make lemon curd & cranberry curd (chill with plastic wrap pressed on the surface to prevent air from touching the curd)
DAY 2: Make the candied cranberries & meringues
DAY3: Make the crust & cool
DAY 4: Assemble & cook - start the chilling process (letting the tart chill for at least 24 hours prior to cutting will yield optimal results)
DAY 5: Decorate the tart with meringues & candied cranberries. Serve & Enjoy!
Shop this Post
Cranberry Lemon Curd Tart
Number of Servings: 8
Prep Time: 4 hours
Cook Time: 15 minutes
Total Time: 4 hours 15 minutes
Ingredients
FOR THE LEMON CURD:
1 tbsp lemon zest
2 egg yolks
¾ cup sugar
3 tbsp butter
1 ½ lemons, juiced
FOR CRANBERRY CURD:
8 oz fresh cranberries
2 egg yolks
1 tbsp orange zest
½ cup orange juice
½ cup sugar
4 tbsp butter
FOR THE GINGERSNAP CRUST:
⅓ cup brown sugar
24 gingersnap cookies
4 tbsp butter, melted
FOR THE MERINGUES:
4 egg whites
½ tsp cream of tartar
1 cup sugar
1 tsp vanilla
pinch, salt
FOR CANDIED CRANBERRIES:
2 cups sugar
8 oz cranberries
½ cup water
Mouth Feel
Salty
Savory
Sour
Bitter
Sweet
Spicy
Instructions
FOR BOTH CURDS: Make a DIY double boiler by setting a glass or metal dish into a large pot filled with 1-2 inches of water. When the water is boiling, reduce to a low simmer.
FOR THE LEMON CURD: Zest and juice the lemons and add the zest to the sugar. Pulse in a food processor until well combined. Whisk together the egg yolks, sugar with zest and lemon juice. Pour in to the double boiler. Continuously whisk until the sugar begins to melt and a smooth custard begins to form (think consistency of hollandaise sauce). Heat to 170 F. When the custard has thickened, remove from the heat. Cut up the butter into cubes and stir into the hot custard until melted. Press a sheet of plastic wrap to the top of the custard and then cool to room temperature before transferring to the fridge to chill completely.
FOR THE CRANBERRY CURD: Zest the orange and add to the sugar. Pulse together in a food processor until well combined. Add the cranberries to a skillet over medium high heat along with the orange juice and sugar. Simmer until the cranberries have softened and are beginning to pop. For best results, use an immersion blender to blend the softened cranberries until smooth. Strain the cranberries through a fine mesh sieve. Cut up the butter into cubes and whisk into the hot cranberry liquid. In a separate bowl, whisk the egg yolks until frothy then pour in about a quarter cup of the cranberry liquid, while whisking constantly, to temper the eggs. Return the tempered eggs to the rest of the cranberry curd and pour into a new or cleaned skillet. Continue to cook over medium heat until thickened - about 10 minutes. Cover with plastic wrap and cool to room temperature before transferring to the fridge to chill completely.
FOR THE GINGERSNAP CRUST: Use a food processor to pulse together the gingersnap cookies, brown sugar and melted butter until fine and crumbly. Press into a greased or parchment lined pie pan or tart tin. Freeze for one hour. Preheat the oven to 350 F. Bake crust for 15 minutes or until golden browned. Cool completely then chill until ready to fill.
FOR THE MERINGUES: Combine the egg whites, cream of tartar, vanilla and a pinch of salt in a large, clean bowl of a stand mixer (or use hand mixer). Whip on low until frothy and then gradually increase the speed while slowly adding the sugar 1-2 tablespoons at a time. Allow the sugar to dissolve completely before adding the next spoonful (if the mixture feels gritty, the sugar has not fully dissolved). The mix should turn silky smooth and bright white. Keep whipping until stiff peaks begin to form. The mixture should hold shape - leaving a straight up point (not a curve) when the paddle is taken out. Preheat the oven to 225 F. Line a baking sheet with parchment or a silicone mat. Transfer the meringue to a piping bag with your preferred tip shape. Pipe the meringue into your desired shapes and sizes on the baking sheet. Bake for one hour at 225 and then turn off the oven and leave the meringues inside the oven with the door cracked until the oven is completely cool (about an hour). The meringues should be crispy.
FOR THE CANDIED CRANBERRIES: In a skillet over medium high heat, combine 1/2 cup of sugar and 1/2 cup of water. Heat until the sugar has dissolved and is starting to become syupy - about 10 minutes. Stir in the cranberries and stir until coated and just starting to cook - about 1-2 minutes. Then use a slotted spoon to remove the cranberries from the syrup. Place on to a drying rack to dry for at least one hour. While still sticky, toss the cranberries in the remaining sugar until completely coated and appear to be frosted. Dry for another 2-3 hours.
TO ASSEMBLE: Make sure all ingredients are chilled completely and nothing is warmer than room temperature at time of assembly. Preheat the oven to 350 F. Start by filling the crust with lemon curd. Use a spatula to get a smooth surface. Pour the cranberry curd on top and again use a clean spatula to smooth out the surface as needed. Bake for 10-15 minutes, until the curd is set and does not jiggle in the middle. Remove from the oven and let cool completely before transferring to the fridge. Chill for at least 24 hours. A few minutes prior to serving, decorate the top of the tart with the meringue and candied cranberries as desired. Don't put the meringues on too early or else they will start to dissolve after a few hours. Chill completely and enjoy!
Print