Crab Rangoon Pizza
June 14, 2021 | Pizza, Pizza Stone, Chinese, Crab, Mimi Magazine
The Starving Chef is supported by Hungry People like you. When you make a purchase through an affiliate link on my site, I may earn a little bit of cash on the side (at no extra cost to you) to help keep my kitchen running. Read our disclosures here.
Super Hungry? Jump to the Recipe
Recently, I saw someone on my feed post about crab rangoon pizza and I about hopped out of my seat to make it. Pizza and crab rangoon just so happen to be two of my favorite things.


Can't make up your mind between pizza night and Chinese take-out? This recipe asks, "Why not both?" If you find yourself wondering where to get crab rangoon pizza yourself, the answer is IN YOUR OWN KITCHEN!
What is CRAB RANGOON PIZZA?!
By combining two of my favorite take-out options, I have created the master of all pizzas. I used a store bought pizza dough crust for the base of my pizza - but you can totally make your own dough at home.
Most crab rangoon is made by stuffing wonton wrappers with a base of crab meat and cream cheese combination. This combination can vary by restaurant of course, but my favorite crab rangoon also has a hint of ginger and green onion.


How to Make Crab Rangoon Pizza
Here's a preview of what you're going to need to make your very own crab rangoon pizza from scratch:
pizza dough - DIY or buy! However, I don't recommend using 'sheet dough' or canned pizza dough. You can sometimes find raw pizza dough at your local grocery bakery or in the frozen section (just be sure to follow the thawing instructions!). For this recipe I used raw dough from my local store.
crab meat - I used imitation crab for this recipe, but you can totally use lump crab instead! The imitation crab will give the red crab color seen in the photos.
cream cheese - this will help glue everything together while adding savory notes. Any leftover topping can be rolled up to make a crab cheeseball!
dried black garlic - something trendy to try! I have been seeing black garlic, especially dried black garlic, along with the dried herbs and spices at several local groceries. If you can't find black garlic, no worries. You can substitute for plain dried garlic instead.
Worcestershire, sesame oil, soy sauce, dried ginger & fish sauce - all of these add savory and umami notes to the pizza topping, giving it a flavor that criss crosses the lines between Chinese cuisine and American food.
Parmesan & mozzarella cheeses - shredded, just like on pizza!
green onion & bacon - give your pizza extra 'omph!' with bursts of salty and tangy

Want to make your pizza EXTRA crispy but still light and chewy on top? Invest in a pizza stone and peel! These two tools have completely transformed my pizza making methods and the results have been nothing but delicious!
A pizza stone is essential because it will evenly cook the pizza, giving a beautiful crispy brown bottom and a soft and chewy top. Plus, pizza stones are relatively cheap and the better 'seasoned' they are (aka, the more you use it!) the better tasting the pizza will be. It will just keep getting better and better!
If you are going to get a pizza stone, you might as well get a peel as well. Many come together in a pack - meaning you now can basicall turn your oven into a stone fired pizza oven. Just be sure to dust the peel with corn meal first, so that after you top the pizza, it will slide off easily onto the preheated pizza stone.
I recommend preheating the pizza stone for at least 30 minutes or longer - usually an hour will be enough to get the stone heated through evenly. You can speed up the preheat process by using a broiler to get the top side super hot and then change over to the cook temperature while the pizza bakes. Essentially you want to heat the stone so that it cooks the pizza bottom so it is nice and crispy.

You'll know your pizza is done when the toppings have melted together and the crust is starting to turn golden brown.
I topped my pizza with a handful of fresh green onion and sprinkled it with some red pepper flakes for an extra pop of heat.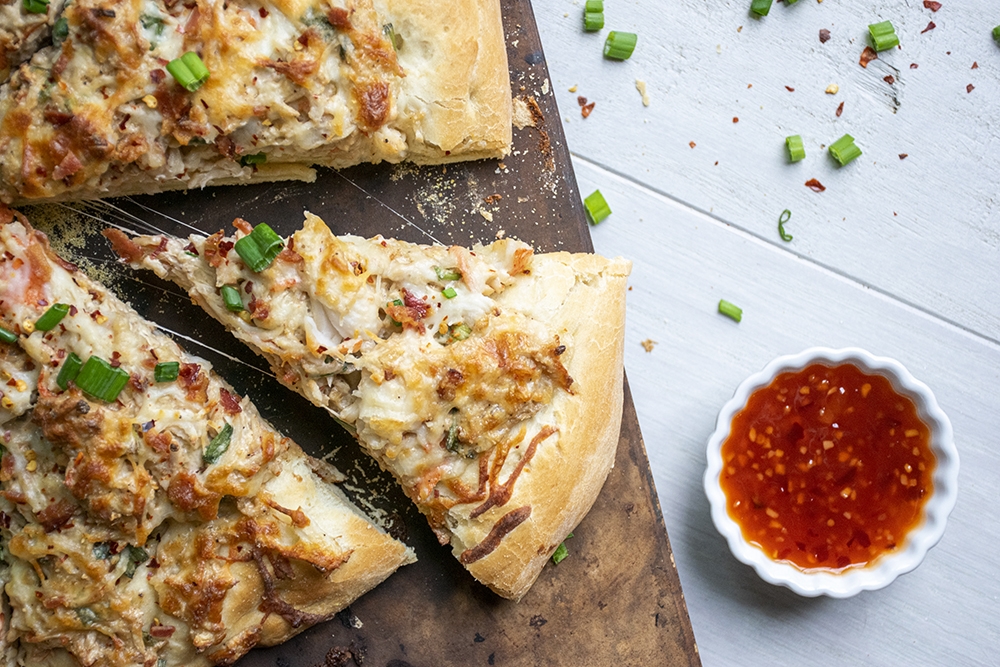 Shop this Post
Crab Rangoon Pizza
Number of Servings: 8
Prep Time: 20 minutes
Cook Time: 15 minutes
Total Time: 45 minutes
Ingredients
16 oz pizza dough (homemade or store bought)
2 cups immitation crab chunks OR lump crab meat
8 oz cream cheese, room temperature
4 green onion, chopped + more for topping
1 tbsp soy sauce
1 tbsp toasted sesame oil
1 tsp dried black garlic
1 tsp Worcestershire sauce
½ tsp fish sauce
1 tsp dried ginger
½ cup shredded parmesan cheese
½ cup shredded mozzarella cheese + more as needed for topping
1 tbsp bacon, cooked & crumbled
¼ cup corn meal, as needed for pizza stone
pizza stone
Thai ginger chile sauce, for dipping
red pepper flakes, optional for topping
Mouth Feel
Salty
Savory
Sour
Bitter
Sweet
Spicy
Instructions
Preheat the pizza stone for one hour at 425 F. Let the pizza dough come to room temperature.
In a large bowl stir together the crab, cream cheese, chopped green onion, soy sauce, sesame oil, dried black garlic, Worcestershire sauce, fish sauce and ginger. Stir until the crab is broken up and everything is mixed together. Lightly stir in the parmesan and mozzarella cheeses.
Roll out the pizza dough on a flour surface until it is about a quarter inch thick and about fourteen inches round. Use your knuckles to create dimples in the surface of the dough.
If using a pizza stone, dust a pizza peel with corn meal and lay the dough on top. Alternatively, if you don't have a peel, carefully remove the pizza stone from the oven and place it on a heat proof surface.
Spread as much of the crab and cheese filling on top of the pizza dough as desired. Top with the crumbled bacon and any remaining mozzarella cheese. Slide the pizza into the oven and bake for 10-15 minutes, until the crust is puffed up and golden brown.
Remove the pizza from the oven and allow to cool for at least 10 minutes prior to cutting, to set the cheese and toppings. Serve with a side of Thai ginger chili sauce. Enjoy!
Print