Green Bloody Mary AKA a SLIMY MARY for HALLOWEEN
October 24, 2021 | Halloween, Halloween Party, Cocktails
The Starving Chef is supported by Hungry People like you. When you make a purchase through an affiliate link on my site, I may earn a little bit of cash on the side (at no extra cost to you) to help keep my kitchen running. Read our disclosures here.
Super Hungry? Jump to the Recipe
When it comes to Halloween recipes, I want my food looking CREEPY AF - and still tasting scary good.
That's where this tentacle-y, slimy green cocktail comes in. A twist on the traditionally red colored Bloody Mary; this drink is made with a similar taste profile in mind.
The biggest difference being the tentacles, of course.

One might say this drink is scared STIFF
After the year(s) we've all had lately, we could definitely use a strong drink to erase our memories.
tomatillos - instead of RED tomatoes, use GREEN tomatillos instead
tequilla - to make the drink scary strong
English cucumber - a blended base for the drink to build on flavors
jalapenos - some Bloody Mary's are spicy, so feel free to crank up the HEAT for Halloween
sea salt - for the rim (I forgot this in the pics! Oops!)
SQUID TENTACLES - yes, SQUID TENTACLES, for garnish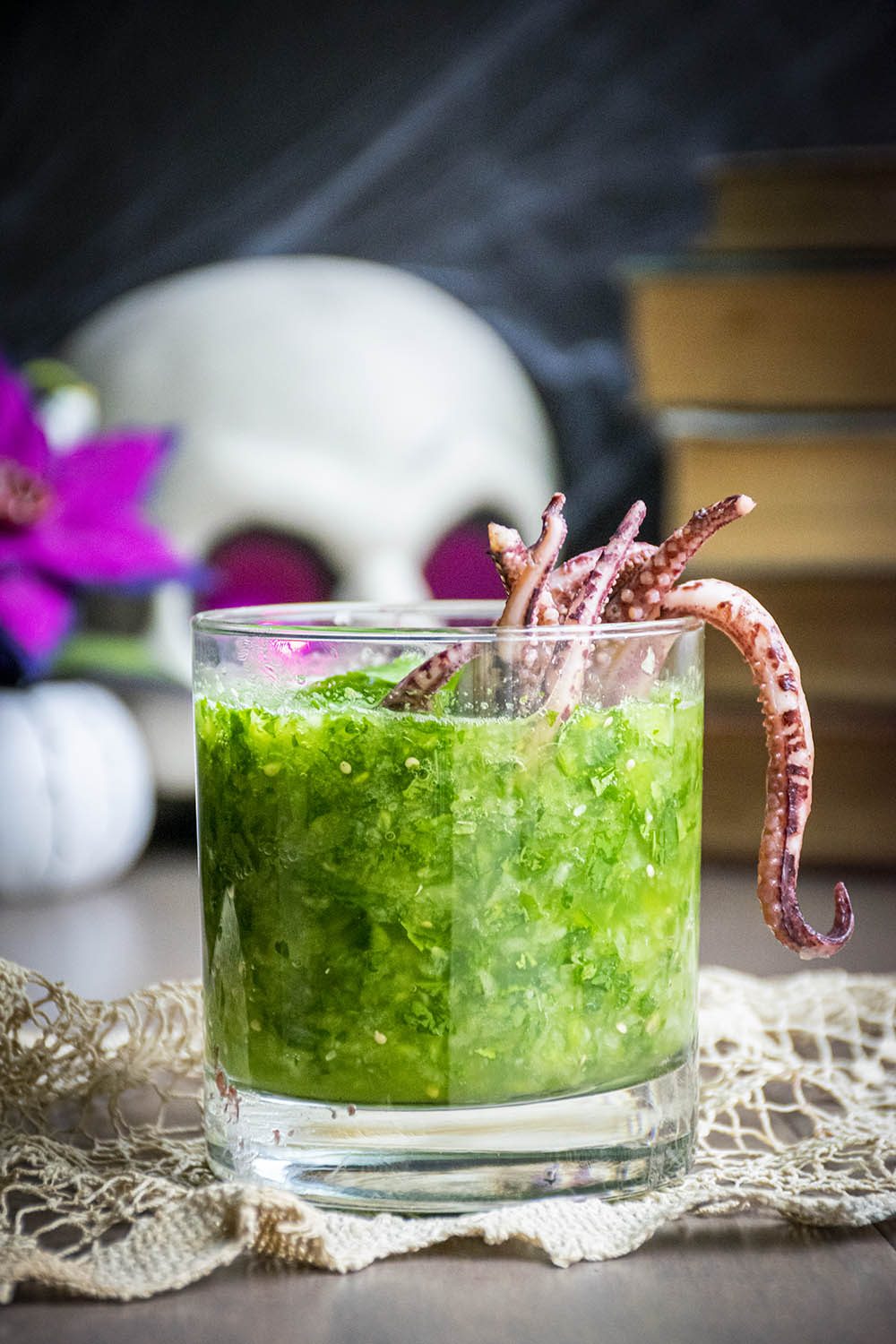 Check out more HALLOWEEN COCKTAILS here!
Shop this Post
SLIMY Mary for HALLOWEEN
Number of Servings: 2
Prep Time: 15 minutes
Total Time: 20 minutes
Ingredients
¼ English cucumber (seedless cucumber), roughly chopped
2 tomatillos, roughly chopped
1 jalapeno (or as much heat as desired), roughly chopped
2 tbsp fresh cilantro (optional)
3 oz tequilla
½ cup water
4 oz cooked squid/calamari tentacles, for garnish
1 tbsp simple syrup, for the rim salt
sea salt, for the rim
Mouth Feel
Salty
Savory
Sour
Bitter
Sweet
Spicy
Instructions
(OPTIONAL) Spread the sea salt into a shallow dish. On a separate plate, pour the simple syrup. Dip the rims of the glasses into the sea salt so that the rim is covered.
Combine all of the ingredients (except squid) in a blender and blend until smooth. Pour into the salted glasses. Garnish with cooked calamari tentacles and enjoy. Happy Halloween!
Print